2 Pakistani politicians thrown off PIA flight by angry passengers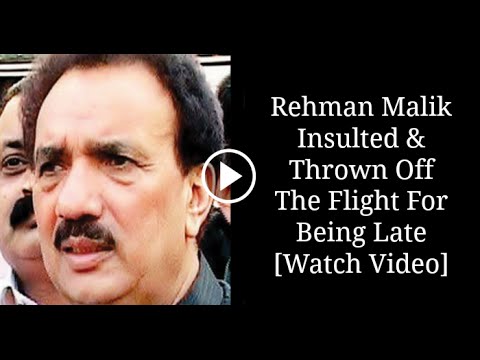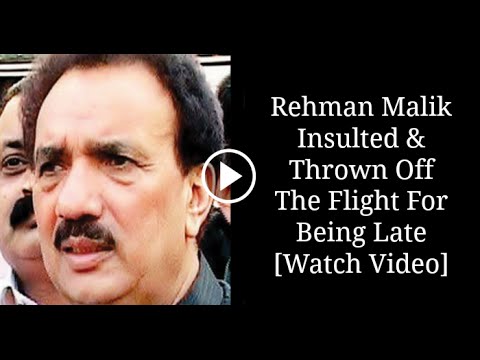 Angry passengers on board an Islamabad-bound Pakistan International Airways (PIA) flight from Karachi forced two prominent Pakistani politicians off the plane accusing them of holding it for more than two hours.
PIA's flight PK-370 was scheduled to depart from Karachi's Jinnah International Airport at 7pm on Monday but according to passengers on board it started two hours late.
Pakistan People's Party (PPP) leader and former interior minister Rehman Malik and Pakistan Muslim League – Nawaz (PML-N) member of National Assembly Dr Ramesh Kumar Wakwani allegedly arrived two hours after the scheduled boarding time and were not allowed to travel by the angry passengers who shooed them off the plane.
Anger caught on camera
The entire episode was uploaded on a French video sharing website called Daily Motion by one of the passengers on board the flight. It then found its way on YouTube.
Around six to eight passengers can be seen assembled near the gateway, which connects the terminal to the aircraft. They can be heard raising slogans.
They then demand that the crew close the door and start the flight. But the crew refuses to do so leading to more commotion and more passengers start crowding the gateway.
Irritated by the VIP culture one of the passengers can be heard saying, "We have taken it for too long… 68 years… Are we going to take it for another 68 years?"
"My foot VIP. Don't you worry. I will grill him when he comes in," says another passenger.
When Malik enters the gateway, one of the passengers tells Malik to go back.
"Malik sahab, sorry. You should go back. You should apologise to these passengers. You should be ashamed of yourself… 250 passengers have suffered because of you. It is your fault, sir."
Malik then walks away without confronting the passengers.
But Wakwani refused to budge and proceeded to the seat, only to be sent off after a series of altercations.
The crowd can be heard clapping and appreciating those who protested after Wakwani leaves the plane.
Technical issue or Malik's fault?
Initially, the flight crew offered 'technical issue' as the reason for the delay.
PIA spokesperson Mashood Tajwar, speaking to Pakistani daily Dawn, also said that the delay was due to a technical issue and it was not Malik's fault.
"PIA does not promote VIP culture… But this flight was delayed an hour and 30 minutes due to a technical reason," said Tajwar.
"The delay had been conveyed to passengers via SMS. Some passengers who had given the contact details of their travel agent may not have been conveyed the message by their agents," he added.
Malik also tweeted later that he had nothing to do with the delay.
Hindustan Times