Syrian government airstrikes on Damascus suburb kill dozens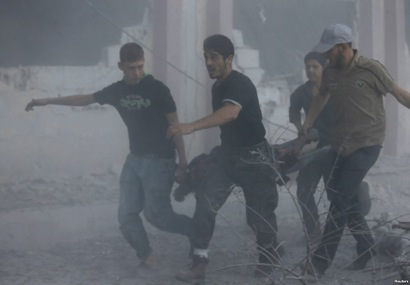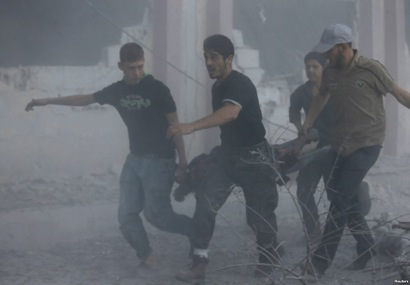 Syrian government forces killed 42 people in airstrikes on a rebel stronghold on the outskirts of Damascus, local activists reported.
The Syrian Observatory for Human Rights reported that seven children died in the attacks, which took place on Thursday in Douma, a suburb around six miles from the capital that has been surrounded by Syrian President Bashar al-Assad's forces since mid-2013. The UK-based Observatory, which gathers information from a network of activists on the ground, said the death toll was expected to rise because some of the dozens of casualties were critically wounded.
Local activists posted a number of graphic videos showing the dead and injured in the aftermath of the bombing as ambulance crews and bystanders attempted to help. In one, a young boy with his arm blown off is carried away from the scene. Later, a young man holds an unconscious victim in his arms and screams for help.
In another video, uploaded by medical sources, bloodied and burnt victims of the bombing, many of them children, are treated in a local field hospital.
Activists also posted footage of the massive devastation caused to buildings hit by the attacks.
Those killed in the airstrikes were buried on Thursday and Friday. The YouTube account which posted the below video has more than 20 others showing similar scenes.
Douma, which is controlled by moderate rebel groups, has been a frequent target of bombings by regime forces. On September 9, SOHR reported that at least nine people had been killed in an attack there.
The Syrian war has been raging since 2011 when an armed uprising began in response to a brutal crackdown by security forces on peaceful government protesters inspired by the Arab Spring. It has since descended into a bloody power struggle between rival Syrian factions and foreign-led groups like Sunni extremist militants the Islamic State.
The UN said on August 22 that more than 191,000 people had died in the fighting between March 2011 and April 2014. Officials added that this was likely an underestimate. An additional 2.9 million Syrians are estimated to have fled the country and 6.4 million have been displaced, according UN figures.
News Vice