Israel's Peres : West Bank land grab damages peace talks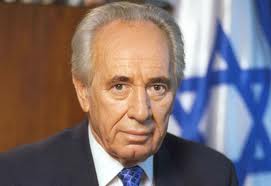 Former Israeli President Shimon Peres said the government's appropriation of West Bank land for settlement is damaging talks for a lasting diplomatic accord with the Palestinians.
"We have to agree not to continue the building of new settlements while we are negotiating," Peres said in a Bloomberg Television interview in Cernobbio, Italy. "You cannot quarrel and negotiate at the same time. So we have to agree on a quid-pro-quo situation."
Israel last week announced it was declaring about 1,000 acres of territory south of Bethlehem as state property, clearing the way for eventual construction of new settlements there. The seizure was condemned by the Palestinians, the U.S. and the United Nations as detrimental to the peace process.
Peres's comments reflect the division in Israel over new settlements and peace talks with the Palestinians. Israeli Economy Minister Naftali Bennett last week defended the moves, adding that a Palestinian state was "not working." Finance Minister Yair Lapid said the appropriation in the Gush Etzion region was taken without cabinet approval and "causes damage" to Israel.
The U.S. called on Israel to reverse the land seizures, and expressed concern about reports of settlement plans in east Jerusalem. Such measures are "contrary to Israel's stated goal of negotiating a permanent status agreement with the Palestinians," U.S. State Department spokeswoman Jen Psaki said in an e-mailed statement.
Palestinians say Israeli construction in the battle-won West Bank and east Jerusalem is a war crime that violates the Fourth Geneva Convention. Israel says the settlements don't fall under the convention because the territory wasn't recognized as belonging to anyone before the 1967 war, in which Israel prevailed, and therefore isn't occupied.
Business Week