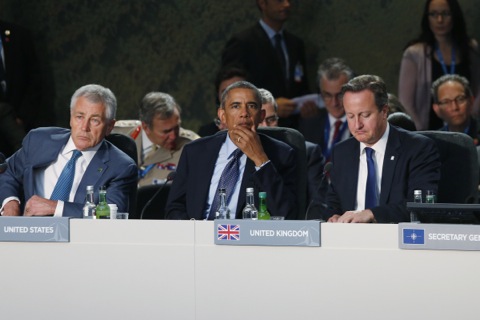 NATO will create a new military force based in eastern Europe designed to mobilize quickly in the event of a hostile incursion into the region, officials said Friday.
"Should you even think of attacking one ally, you will be facing the whole alliance," NATO Secretary-General Anders Fogh Rasmussen said Friday at the close of a two-day summit in Wales. The sentiment echoes the decades-old principle at the core of the NATO pact that an attack against any member of the alliance is an attack against all members.
The rapid response force will consist of thousands of troops based in eastern Europe that will give NATO a "continuous presence" in the region, Rasmussen said. Countries will contribute land, air and sea forces to the new unit on a rotating basis, he added.
Concern over Russian expansion into the former Soviet Union's sphere of influence in eastern Europe, including Ukraine, where the government has been clashing for months with pro-Russian separatists, is a major topic of discussion at this week's NATO summit in Wales. Though Ukraine is not a NATO member, Russia's role in the country's crisis has raised concerns among member states about Kremlin aggression across the region.
"[This force] is a blueprint for NATO of tomorrow," Rasumussen said.
Time /AP