Actress Joan Rivers dies a month after wishing death to Palestinians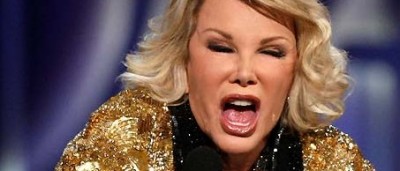 American comedian Joan Rivers has died in a New York hospital, her daughter Melissa Rivers has confirmed. She was 81.
During her lengthy career, the comedian – famous for her frank style – often came under fire for the comments she made off stage, on everything from fur to the war in Gaza.
About a month ago she made one of her most shocking statements when she said that Palestinians killed in the recent war with Israel deserved to be dead. "When you declare war, you declare war. They started it. We now don't count who's dead. You're dead, you deserve to be dead. Don't you dare make me feel bad about that," she told TMZ.
And in July, a long-standing feud between Rivers and Peta re-emerged when the animal rights group arrived unannounced at a promotional event for her new book, and asked her why she chose to wear fur.
At first appeasing demonstrators, Rivers quickly hit back by saying that the furs she had worn "have gotten to go to the opera." She then added that she agreed with the group, and has four rescue animals. "We all do what we do in our own way," she said.
Establishing her career by poking fun at celebrities – herself included – even an 81-year-old Rivers pulled no punches.
After The Hunger Games actress Jennifer Lawrence criticised Rivers' Fashion Police show last year, the 24-year-old became the octegenarian's chosen target of ridicule. Rivers said of the actress: ""My New Year's resolution is [ensuring] Jennifer Lawrence grows up and realizes how lucky she is and calms down."
"I love that she's telling everyone how wrong it is to worry about retouching and body image, and meanwhile, she has been touched up more than a choir boy at the Vatican," she said in her characteristically shocking style.
Bio
Born Joan Alexandra Molinsky in Brooklyn, New York in 1933, known by her stage name Joan Rivers, was an American actress, comedian, writer, producer, and television host, best known for her stand-up comedy, for co-hosting the E! celebrity fashion show Fashion Police, and for starring in the reality series Joan & Melissa: Joan Knows Best? alongside her daughter Melissa Rivers.
Rivers first came to prominence in 1965 as a guest on The Tonight Show, a pioneering late-night program with interviews and comedy, hosted by Johnny Carson, whom she acknowledged as her mentor. The show established her particular comic style, poking fun at celebrities, but also at herself, often joking about her extensive plastic surgery. When she launched a rival program, The Late Show, Carson never spoke to her again. She went on to host a successful daytime slot, The Joan Rivers Show, which won her a Daytime Emmy for Outstanding Talk Show Host. Her satirical style of humor, however, by focusing on the personal lives of celebrities and public figures, was sometimes criticized. She also authored 12 best-selling memoir and humor books, and provided comic material for stage and television. As an actress, Rivers was nominated for the Tony Award for Best Actress in a Play in 1994 for her performance as Sally Marr in Sally Marr…and her escorts.
Independent/ YL