350 more U.S. troops to be deployed in Iraq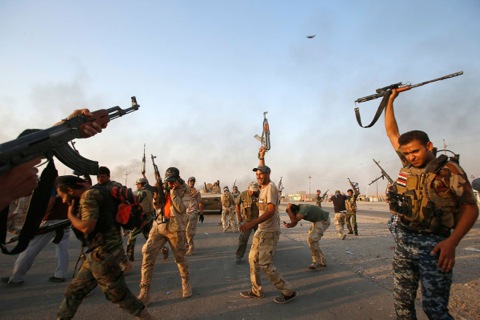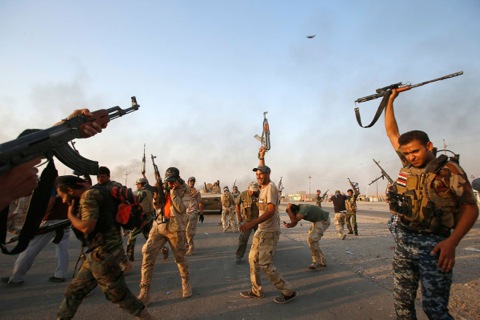 President Obama on Tuesday authorized the deployment of an additional 350 troops to Iraq in response to a State Department request last week for more protection for U.S. personnel and facilities in Baghdad.
"These additional forces will not serve in a combat role," the White House said.
A Pentagon statement said the new deployments "will come from within the U.S. Central Command area of operations and will include a headquarters element, medical personnel, associated helicopters and an air liaison team."
The new order brings to more than 1,100 the total number of U.S. military personnel authorized for Iraq since early June, when Islamic State forces began a blitz across the country, seizing towns and cities in the northwest and central parts of the country.
Of that number, a total of 820 are now responsible for protecting the U.S. Embassy and the airport in Baghdad and the U.S. Consulate in Irbil in the northern Kurdish region. Although both diplomatic facilities remain open, an unspecified number of U.S. diplomats in both locations have been relocated for security reasons to the U.S. Consulate in Basra in southern Iraq and to the embassy in neighboring Jordan.
Separately, Obama authorized 300 troops to Baghdad and Irbil to assess and assist Iraqi and Kurdish security forces fighting the militants. The 300, not all of whom have been deployed, have been sent to joint operating centers in Baghdad and in Irbil, where they are helping to direct a U.S. air campaign that has conducted 124 airstrikes against Islamic State forces in northern Iraq.
Most of those strikes, including the most recent one Tuesday, have been near the Mosul dam, in far northern Iraq. Militants who had seized the dam were driven out last month, but they continue to try to retake it from Iraqi forces, the Pentagon said.
Other airstrikes have occurred near Irbil, where the militants were said to have been pushed back from an attempt to attack the city, and as part of a humanitarian operation to rescue thousands of minority Yazidis besieged by the militants on a mountain ridge near Iraq's northwest border with Syria.
This week, U.S. warplanes also joined the fight to drive back a militant assault on the village of Amerli, where minority Turkmen were similarly surrounded.
 Obama has said he will not send ground combat troops to Iraq.
Washington  Post