ISIS 'executes hundreds of Iraqi prisoners': UN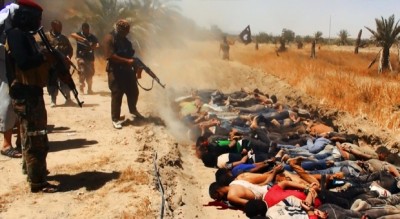 The UN has accused Isis fighters in Iraq of carrying out crimes against humanity, including a reported mass execution in the second city of Mosul.
Up to 670 inmates from Badush prison in the city of Mosul were reportedly killed by the militants on 10 June, UN human rights chief Navi Pillay said in a statement on Monday, in which she cited the accounts of some 20 survivors and 16 witnesses.
During the incident, Isis militants – now calling themselves the Islamic State – loaded between 1,000 and 1,500 prisoners from the institution on to trucks and drove them to an uninhabited area. They then separated Sunni inmates, and removed them from the group.
Fighters verbally abused the remaining Shia prisoners, before lining them up in four rows and ordering them to kneel on the floor. Fighters proceeded to shoot and kill the inmates, Pillay said.
"Such cold-blooded, systematic and intentional killings of civilians, after singling them out for their religious affiliation, may amount to war crimes and crimes against humanity," Pillay said of the extremist Sunni fighters.
Kurdish officials in Irbil confirmed that Islamic State had separated Sunni and Shia inmates after taking over Badoush and other prisons, the Guardian reported. They added that some Shia prisoners from Badoush were killed by Islamic State, with Sunnis freed after swearing allegiance to Isis. However, they raised doubts that the number of people executed was as high as 670.
As the group has expanded its self-appointed caliphate across the border between Syria and Iraq, it has carried out targeted killings, forced conversions, abductions, trafficking, slavery and sexual abuse.
It has also destroyed places of religious and cultural significance, and besieged entire communities for ethnic, religious or sectarian reasons, Pillay warned.
"They are systematically targeting men, women and children based on their ethnic, religious or sectarian affiliation and are ruthlessly carrying out widespread ethnic and religious cleansing in the areas under their control," she said.
Hundreds of members of the Yazidi community in Nineveh have been killed and up to 2,500 were kidnapped at the beginning of August. And in Cotcho village in Southern Sinjar on 15 August, hundreds more Yazidis were killed and abducted.
Meanwhile in the town of Amirili, at least 13,000 Shia Turkmen, including 10,000 women and children, have been besieged since 15 June.
As the West has grappled with how to deal with the group, the beheading of American journalist James Foley last week prompted international calls for tougher action against the jihadists, including methods to tackle those who return to the West from Iraq and Syria having been radicalised.
After Washington signalled it would consider extending the battle against the militants into Syrian territory, Syria said on Monday it would cooperate in any international efforts to fight Islamic State in the country.
The country has been regarded as a pariah since an uprising culminated in a vicious civil war.
But following a series of US air strikes on Iraq, Syria warned Washington against similar moves with Damascus' consent. It said any such attack would be regarded as an act of aggression.
The Independent