Israel, Hamas extend cease-fire by 5 days, amid fresh strikes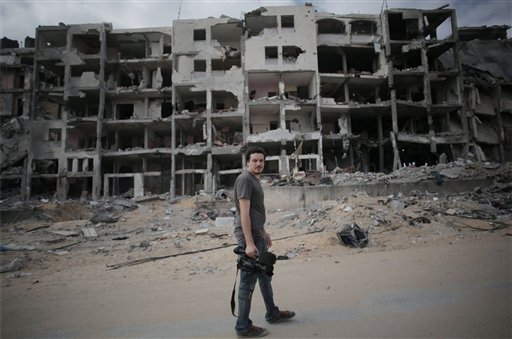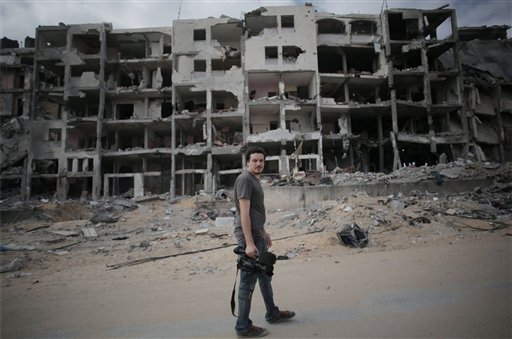 Palestinian diplomats in Cairo said Hamas and Israel agreed Wednesday to a five-day extension of the Gaza Strip cease-fire to negotiate a more permanent truce, even as a barrage of rockets were lobbed at Israel and a deadly accident at a bomb disposal site killed a foreign journalist and five others in Gaza.
In Cairo, the head of Palestinian delegation, Azzam al-Ahmad, told a chaotic press conference "there's been progress on many points," but the two sides are still far apart on security issues.
The Israeli team returned to Jerusalem and the Palestinians would go back to Ramallah, they said, to consult with leadership. The Israelis made no official comment.
The talks have centered on Israeli demands that Hamas and other militant factions stop firing rockets from Gaza and digging tunnels to attack Israel.
But even as the truce was announced, Palestinian militants fired five rockets at Israel and Israel responded, targeting sites across the Gaza Strip, the Associated Press reported.
The Palestinians, including Hamas, want Israel and Egypt to open the border crossings for more trade and travel, end the blockade that has isolated the Gaza Strip from the world, allow for rebuilding after a month of widespread destruction.
Even with a cease-fire in place, Gaza remained a dangerous place on Wednesday.
An Associated Press video journalist and his Palestinian translator were killed in series of explosions at an ordnance dump as they were reporting a story about Gaza's efforts to dispose of a mountain of deadly debris left behind after a month of war.
The Italian journalist, Simone Camilli, and interpreter, Ali Shehda Abu Afash, were killed alongside four members of the Gaza police force's bomb disposal unit.
The Gaza bomb technicians, who are mostly self-taught and lack even basic safety equipment, were attempting to defuse an unexploded ordnance, the silent killers that can linger for years after armed conflict ends.
The Israeli Defense Forces hit more than 4,860 sites in Gaza during four weeks of fighting. Many sites were struck repeatedly by a barrage of ordnance. An unknown number of rockets fired by Hamas fell short and also landed within Gaza.
Hazem Abu Murad, head of field operations for the Gaza police bomb squad, was working to defuse a device when it exploded. In interviews with foreign media in the days before he died, Murad estimated that there were 2,000 unexploded munitions in Gaza, including shells fired by Israeli tanks, artillery batteries and gunboats, and missiles from Apache helicopters, armed drones and F-16s.
A senior spokesman for the Israeli military, Lt. Col. Peter Lerner, said the army was not commenting on Wednesday's explosion. He said that Israel had no plans to assist in the disposal of unexploded ordnance. "There is some international effort ongoing to do that, but it has not yet been put into action," he said.
At the bomb disposal team leader's funeral Wednesday, Murad was hailed as a martyr and a brave man. He worked for a squad that has lost 11 members in the last month, six killed on the job and another five seriously injured.
"This is dangerous work. It's life and death. One small tweak in the wrong direction, even a millimeter, and you're dead," he told the National newspaper last week.
Murad had said he worked in the unit for 15 years and was taught his trade by Canadian, British and U.S. experts. But new recruits to the team have not had outside technical training since 2007, after Hamas took control of the Gaza Strip and restaffed the police with its own members. Hamas is considered a terrorist organization by Israel and the United States.
The bomb squad not only lacks electronics and robots, but also forgoes protective gear. They defuse bombs in sites crowded with onlookers and store unexploded ordnance in make-shift depots in residential areas, including one site next to United Nations school in the Nuseirat neighborhood.
An ordnance expert in Gaza, who works with international organizations here, called the Hamas-led bomb squad "dangerously undertrained."
The deadly explosion Wednesday took place in a sandy lot across the street from a fortified police station in the northern Gaza town of Beit Lahiya. The unsecured dump was protected by a few strands of barbed wire and a drop cloth.
Police at the scene said all the ordnance was gathered during the current operation, although some of the casings appeared older. They said it was all fired by the Israelis, but it was possible the site contained some munitions left behind by Hamas, the Palestinian Islamist group that runs the Gaza Strip, and other militants.
Three others were badly injured at the scene, including Associated Press photographer Hatem Moussa, from Gaza, who was listed in serious condition and evacuated to an Israeli hospital.
"We heard a large explosion, then a series of explosions, big and small, and we ran here from the police station," said Lt. Rabah Hijazi, a Gaza police officer who was stationed across the street. "We saw people on the ground. They were calling for help."
At the scene, beside the piles of artillery shells, scattered like trash, were dark stains in the dirt and a camera lens cover.
Camilli, 35, was an Italian national who began working for the U.S. news agency in 2005. He relocated to Jerusalem in 2006 and was a seasoned reporter in Gaza.
Camilli is the first foreign journalist killed in the Gaza conflict. More than 1,900 Palestinians have been killed, many of them civilians. On the Israeli side, 67 people have died, all but three of them soldiers.
One of Camilli's AP colleagues, Cairo correspondent Sarah El Deeb, tweeted that he "always kept a cool head in the most tense times."
The 36-year-old interpreter, Abu Afash, who was freelancing for the Associated Press, was well known in the press corps. At his home, his wife, Shireen, was trembling with grief, reciting verses from the Koran as family and friends hovered to dab her face and wrists with cool water.
She told a reporter, "Write a proper article about my husband. He did his work to show the world what is happening in Gaza."
Washington Post