Hariri met several envoys but is in no rush to meet Hezbollah chief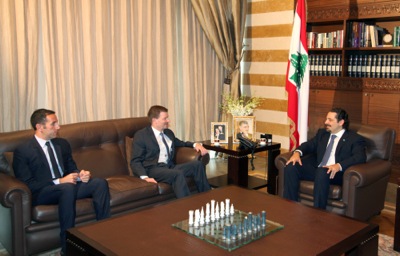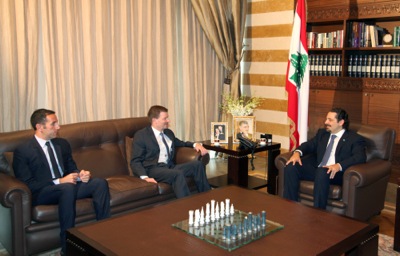 Former Prime Minister Saad Hariri  spent his second day in  Lebanon holding  talks  with envoys of  several countries  explaining the $1 billion Saudi grant offered to the Lebanese Army and security agencies to combat terrorism.
US Ambassador David Hale, Canadian Ambassador Hilary Childs-Adams, Ross Mountain. UN Resident Coordinator  for Lebanon Ross Mountain, as well as representatives from embassies of France, Germany, Britain, China, Russia, Italy and the European Union attended the meeting at Hariri's downtown residence.
During the meeting, Hariri informed them of the grant donated by Saudi King Abdullah to the Army, saying there was ongoing contact to benefit from the grant to "meet the needs of the Army and security forces, and enable them to carry out their tasks, combat terrorism and strengthen security and stability."
According to Hariri's office, the meeting also focused on the assistance that can be provided by the countries in the support group to help Lebanon withstand the growing needs of the Syrian refugees and their host communities.
Hariri said he returned to oversee the spending of the Saudi grant that Riyadh announced earlier this week with the aim of supporting the Army to combat terrorism.
Hariri, who arrived in Beirut Friday, in a surprise return to the country after a little over three years of self-imposed exile due to security concerns, also met with Turkish Ambassador to Lebanon Inan Ozyildiz.
"It was a big pleasure to see … Hariri back in Beirut. I wanted to greet him and express our good wishes for his stay here. I think that his return will play a positive role in strengthening dialogue, stability and the armed forces," the Turkish envoy said
Hariri  also received  several phone calls from various political leaders, greeting him on his safe return.
Among the callers are   FPM leader MP Michel Aoun,  PSP leader MP Walid Jumblatt, Former Minister Elias Murr, Lebanese Forces leader Samir Geagea, Minister Wael Abu Faour , MPs Ahmed Karami, Ghazi Aridi, Anwar Khalil, Talal Arslan, and Druze Sheikh al Aql Naim Hassan.
According to LBC Hariri is no rush to meet Hezbollah chief Hassan Nasrallah, who was not among the callers .
Hariri sources were quoted telling LBCI: "There is no need for any meeting between the former PM and Hezbollah chief Nasrallah and we should take things one day at a time."
Former PM and Future Movement bloc chief MP Fouad Siniora haled Hariri's return to Lebanon  :
"Hariri's return will help us overcome crises given the regional situation."he said
Read more: http://www.dailystar.com.lb/News/Lebanon-News/2014/Aug-09/266629-hariri-holds-talks-with-foreign-envoys.ashx#ixzz39ttfDwM2
(The Daily Star :: Lebanon News :: http://www.dailystar.com.lb)