Lebanese army finds 50 bodies as it advances in border town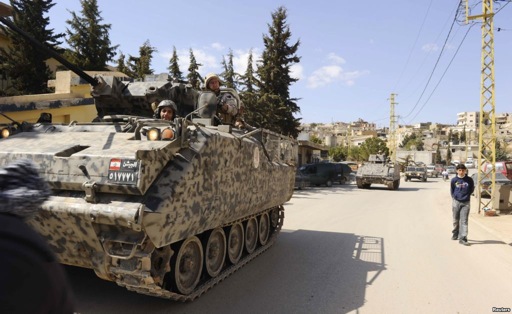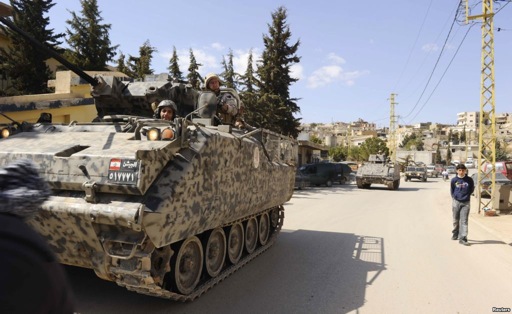 army
Lebanese soldiers in armored vehicles advanced into a border town that was attacked by Islamists in an incursion from Syria at the weekend, finding the bodies of 50 militants, a Lebanese security official said.
The army kept up an artillery bombardment of Arsal, a Sunni town by the border, Reuters witnesses said.
At least 13 Lebanese soldiers have been killed in the fighting, which erupted after the Lebanese security forces arrested a militant Islamist leader on Saturday.
Another 13 soldiers are missing, along with an unspecified number of policeman, with army chief General Jean Kahwaji saying Sunday that the troops might have been taken hostage.
The violence is the worst in the area since the outbreak of the Syrian conflict in 2011.
Arsal is majority Sunni Muslim and broadly sympathetic to the Sunni-dominated uprising next door against Syria's Bashar Assad has a population of 40,000 but is hosting 3 times as many Syrian refugees .
Nearly 1 in 3 residents of Lebanon, a country of 4 million is a Syrian refugee
who are creating strains on local resources and tensions with the Lebanese population in some areas.
Hariri defends army's role
Former Lebanese Prime Minister and Future Movement leader MP Saad Hariri ( a Sunni Muslim) defended the Lebanese Army's role , in trying to liberate Arsal from the Islamist militant groups .
"There is no place for the Takfiri and terrorist organizations, and there will be no leniency with its destructive mission, which is alien to the people of moderation and tolerance," Hariri said in an interview by Al-Hayat newspaper published Monday.
Hariri said that the Lebanese Army and Internal Security Forces are red lines to the Future Movement, which has a strategic and fixed stand toward Takfiri groups.
But many analysts blame Hezbollah for the violence in Arsal. According to some analysts Hezbollah, which is helping the Syrian regime in its fight against the mostly Sunni rebels is slowly but surely trying to drag the Lebanese army into the Syrian conflict by using it as its shield against the radical Islamist terrorists which could have very serious consequences for Lebanon.
The majority of Sunnis in Lebanon are considered moderate and do not support radical Islamic movements such as the Al Qaeda linked groups or the Iranian backed Hezbollah militant group.
Salam calls for unity on Arsal
Prime Minister Tammam Salam who, like hariri is a Sunni Muslim called for the release of hostages taken by Syrian Islamic militants and said he hoped for a unified stance in an extraordinary cabinet session scheduled for Monday.
"The state's conditions in the negotiations between the militants in Arsal and the army are clear," Salam told Al-Mustaqbal newspaper in an interview published on Monday.
"First and foremost the militants must withdraw from Lebanese territory and release the Internal Security Forces and Lebanese Armed Forces hostages."
He went on to say that he hopes ministers will present a united front during the Monday's cabinet session
YL/Reuters