Gaza: Israel declares partial 7-hour ceasefire after shelling UN school
Israel has announced a seven-hour "humanitarian ceasefire" in parts of Gaza, starting on Monday morning.
A senior Israeli military official said the truce would not apply to Rafah and that Israeli troops would respond if they came under attack.
Earlier, United Nations chief Ban Ki-moon described an Israeli strike near a UN-run school in Gaza as "a moral outrage and a criminal act".
Palestinian officials said at least 10 people died in the attack on Sunday.
The Israel Defense Forces (IDF) said it had targeted three Islamist militants near the UN school.
In the outrage that followed the attack, Israel said it would hold a "humanitarian window" in its Gaza offensive to allow hundreds of thousands of displaced Palestinians to return to their homes.
The ceasefire would not include the town of Rafah, an IDF statement said, because there was an "Israeli military presence" there and "clashes were still ongoing".
It said the truce would last from 10:00 local time (07:00 GMT) until 17:00 (14:00 GMT).
The Israeli army warned that it would "respond to any attempt to exploit this window" by Islamist militants in Gaza.
Hamas responded to the truce with suspicion and its spokesman, Sami Abu Zuhri, accused the IDF of attempting to "divert the attention from Israeli massacres".
Health officials in Gaza say 1,800 Palestinians, most of them civilians, have been killed and more than 9,000 injured since the conflict began nearly four weeks ago.
More than a quarter of the 1.8 million residents in the Palestinian territory have been displaced.
'Disgraceful shelling'
Many of those who have fled their homes have taken refuge in UN shelters across Gaza, including a school in Rafah where 10 people died on Sunday after an Israeli attack.
Mr Ban described the attack as "yet another gross violation of international humanitarian law", and said Israel had regularly been informed of the precise location of the school.
State Department spokeswoman Jen Psaki said the US was appalled by the "disgraceful shelling".
Israel said it was investigating the incident.
Prime Minister Benjamin Netanyahu said Israel is "sorry for any attack that unintentionally hits civilians" but accused Hamas of turning UN facilities into "terrorist hotspots".
"Hamas has an interest in Gaza residents suffering, thinking that the world will blame Israel for their suffering," Mr Netanyahu said in a statement on Monday.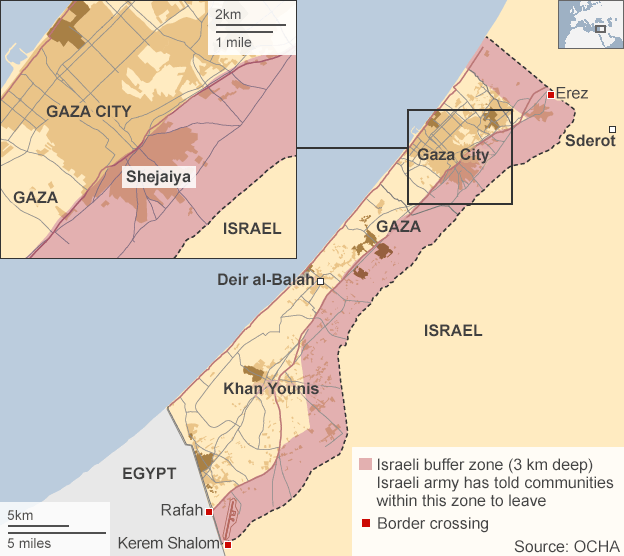 Israel's army confirmed on Sunday that it had begun withdrawing some troops from Gaza, saying it was "extremely close" to completing its mission to destroy a network of tunnels.
Sixty-six Israelis have died since the start of the conflict, all but two of them soldiers. A Thai worker in Israel also died.
The IDF says 2,560 rockets and mortars fired from Gaza have landed in Israel since 8 July, with its Iron Dome defence system having intercepted another 556 rockets.
BBC