Why Putin shot down Malaysian Airlines flight MH-17 ?
While investigations continue, at this point most people accept that the missile that shot down Malaysian Airlines flight MH-17 was supplied by Russia, came from an area that its separatists controlled and involved training—if not outright participation—from the Russian military.
It has also become clear that the person most responsible for the tragedy is Vladimir Putin. None of this could have happened without not only his approval, but his active support. Sophisticated military assets simply do not get up and walk across borders by themselves.
Moreover, the downing of MH-17 is just the latest escalation in a cynical war being waged against the former Soviet republic of Ukraine. From the killing of innocent civilians in the Maidan, to the stealth invasion and subsequent annexation of Crimea to the current military actions that led to a missile taking down a civilian airline, Putin has chosen to escalate at every juncture.
These facts should be clear to anyone who has followed the crisis over the past months. The big question is why. Why would the leader of a powerful country in reasonably good standing want to risk everything by putting himself in the same league with Muammar Gaddafi?
Many say that it is all part of Putin's master plan, that he has been scheming for years to create a greater Russia and that he has been skillfully moving his chess pieces around the board in order to attain that objective. Yet most Kremlin experts say otherwise. They insist that he is a talented tactician with little taste for broad strategic thinking.
Events would seem to bear this out. Since the crisis began, he has been taking on ever greater risk—not to mention serious damage to the Russian economy—with negative return. Before the crisis began, Ukraine was slowly moving towards Europe, now it is actively running away from Russia. European public opinion, even before MH-17, has turned decidedly against Putin. Russia's most talented citizens are leaving in droves.
So it appears that Putin is not only a poor chess player, he is an exceeding bad poker player, constantly raising the stakes while facing a decreasing expected return. If he ever could return Ukraine to the fold—an exceedingly unlikely prospect—he would accomplish no more than a return to the status quo ante.
While, in many aspects, tension has been growing for a decade or so, the most proximate cause to the current crisis is the protests that erupted after Putin's last election. While there is much to find fault with Putin's government, he did preside over a period of prosperity unequalled in Russia's long history. So it's easy to imagine how unnerved he was at the uprising.
After all, it was those who benefitted most from Russia's newfound prosperity—the middle class—who were taking to the streets. It was the same people who found good jobs, took expensive vacations abroad and attained a comfortable lifestyle that were protesting. Putin, by all accounts, was incensed.
Further, he most probably believed, although it's impossible to confirm, that the CIA was fomenting discontent in order to weaken him. As anybody who's lived in Moscow knows, the American CIA plays a larger than life role in Russian lore, capable of masterminding incredible deceits while skillfully covering it's tracks. Conspiracy theories abound. If you don't see American spies at work, then they truly must be lurking in the shadows!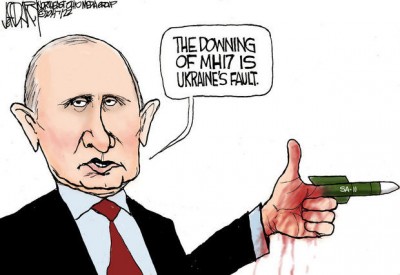 Putin's response to his political problems was a throwback to old Russian tactics. He cracked down on civil society, curtailing the rights of NGO's, independent media and other institutions. He also used his propaganda machine to portray Russia as besieged by enemies—the LGBT community, fifth columnists and other "foreign agents"—working towards its downfall. Finally, he moved to assert dominance over Russia's "near abroad."
It was this last tactic that led to the current crisis. It led him to create the Eurasian Economic Union, a prelude to a greater Russian empire, for which he desperately needed Ukraine's participation. So Putin bullied its feckless President, Viktor Yanukovych, into backing out of the EU Association Agreement that he had promised to sign.
That, of course, led to the Euromaidan protests in Ukraine and the fall of the Yanukovych regime, which then led to the annexation of Crimea and the fomenting of the separatists movement in Eastern Ukraine.
The pattern of events shows a dangerous pattern. At almost every stage, Putin miscalculates and then raises the ante. He clearly did not expect the protests that broke out against the scrapping of the EU Association agreement, nor did he foresee that the crackdown would bring even more people to the streets.
Miscalculation. Failure. Escalation. The pattern continued with the separatist movement. While it gained some traction in Donetsk and Luhansk, it went nowhere in most of the industrial East. Russian actions were quickly put down in Kharkiv, Zaporizhia, Dnipropetrovsk and Odessa, where most of Ukraine's high level industry—not to mention a good bit of Russia's military industry—is located.
After the election of Petro Poroshenko to Ukraine's Presidency came more setbacks. The rebel strongholds of Slaviansk and Kramatorsk were retaken by Ukrainian anti-terrorist troops and they began moving toward Donetsk and Luhansk. So Putin escalated again, sending heavy artillery and more sophisticated weapons, including the one that shot down MH-17.
Miscalculation. Failure. Escalation. The downing of MH-17 is a logical consequence of the pattern. Putin took the actions that lead to the downing of MH-17 because he believes that he has no other choice. He's stuck, for lack of a better term and it's not at all clear that he sees a way out. He must either continue to escalate or betray his own ambitions.
Incredibly, even after the intense global condemnation following the unspeakable act of shooting a civilian airliner out of the sky, the pattern persists and Putin continues to escalate. Now, as the Ukrainian Army continues to close in on Donetsk and Luhansk,there is hard evidence that the Russian military is shooting rockets at Ukrainian positions from Russia itself.
As I previously wrote, there are 3 keys to understanding the Ukrainian crisis. First, as should be clear from the reasons stated above, Putin will not be deterred. He's chosen his course and he's unlikely to change his mind. Neither sanctions nor diplomacy nor even probably military action will dissuade him.
The second is more subtle, but no less important. Everyday, old Soviets die and new Ukrainians are born. The new generation is well educated, technologically sophisticated and well travelled. Many work for multinational corporations directly or through online platforms like Elance and Toptal. They look to the future, not the past, and their model is Poland, not Russia.
Finally, the price of oil is much more likely to go down than in the next few years. Barron's recently predicted that it will reach as low as $75, down from it's current price of just under $110 in the near to medium term. That, along with the sanctions, will devastate the Russian economy and significantly curtail Putin's capacity to act.
The unfortunate but undeniable conclusion is that this crisis will continue for the foreseeable future. Unless Putin faces a substantial internal revolt, which is unlikely, he will continue to escalate after every failure. Eventually, we will have to manage the fallout from his inevitable downfall or face far greater problems than we do today.
So why did Putin shoot down MH-17? Most probably, because he didn't feel that he had any other choice. And that is probably the most disturbing part of the story.
Forbes