Hezbollah pledges full support to Hamas, despite Syria rift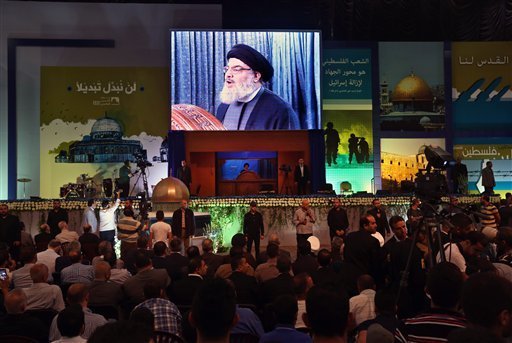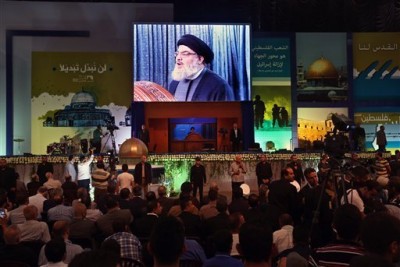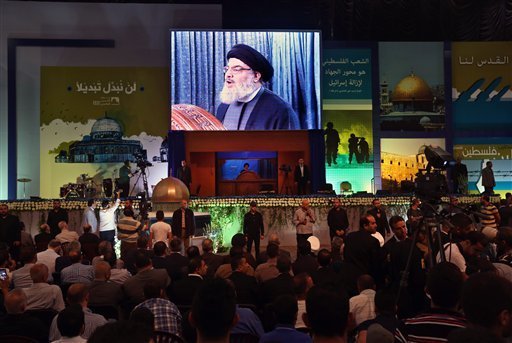 Hezbollah leader Sayyed Hassan Nasrallah pledged full support on Friday to the Palestinian group Hamas in its conflict with Israel despite a deep rift between the two militant organizations over the civil war in Syria.
"We in Hezbollah will be unstinting in all forms of support, assistance and aid that we are able to provide," Nasrallah said.
"We feel we are true partners with this resistance, a partnership of jihad, brotherhood, hope, pain, sacrifice and fate, because their victory is all our victory, and their defeat is all our defeat," he said.
Nasrallah delivered his speech in public in Hezbollah's stronghold of south Beirut, a rare event for the militant Shi'ite Lebanese leader who has lived in hiding, fearing for his security, after Hezbollah's 2006 war with Israel.
That inconclusive 34-day conflict won Hezbollah sweeping support around the Arab world for standing up to Israel's military superiority. But its more recent military action in neighboring Syria has eroded that regional backing.
Shi'ite Hezbollah has sent thousands of fighters into Syria to fight alongside President Bashar al-Assad's forces, helping turn the tide against overwhelmingly Sunni Muslim rebels.
But the Hamas leadership, once based in Damascus, refused to support Assad as he confronted with force peaceful protests which broke out in 2011 and descended into an insurgency and civil war. Since then 160,000 people have been killed.
"We call for all differences and sensitivities on other issues to be put to one side," Nasrallah said in reference to the rift over Syria. "Gaza is above all considerations"
His speeches are usually delivered via video-link from an undisclosed location, but in a sign of confidence the Hezbollah leader spoke on Friday for an hour in front of hundreds of supporters at Hezbollah's Martyr's Compound in the south of the Lebanese capital.
"We say to our brothers in Gaza: We are with you, by your side, trusting in your strength and your victory. We will do all that we believe to be our duty, on all fronts," he said.
Nasrallah did not specify what support would be given, but he pointedly said that Iran, Syria and Hezbollah in the past had supplied "all factions of the Palestinian resistance, financially, materially, politically…with weapons, logistical help and training."
Reuters