Airline ban shows vulnerability of Israeli economy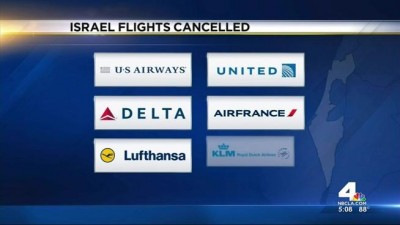 flightBy John Reed
Hamas struck at the heart of Israel's open, globally trading economy this week when the US Federal Aviation Authority temporarily banned flights into Ben Gurion airport in Tel Aviv after a rocket fired from the Gaza Strip landed a mile away.
It came after the al-Qassam brigades, Hamas' military wing, last week emailed foreign airlines in Israel, warning them that it planned to target their flights because Ben Gurion, Israel's main gateway to the world, also hosts a military base.
Ajnad, a Palestinian news website, said that the closure of the airport proved that Israel was "lying about the capability of Iron Dome", its missile defence shield, and that the Palestinian "resistance" had the ability to strike not only at Israel's military interests, but its civilian infrastructure too.
Although the Hamas "victory" was shortlived – by Thursday most airlines had resumed their flights – the incident highlighted the vulnerability of the Israeli economy to broader economic fallout from the current war, now in its third week.
A central theme of prime minister Benjamin Netanyahu's time in office has been reassurance that he can shield Israelis, and their economy – which trades more with Europe and the US than it does with its neighbours – from regional risk.
There are further risks to Israel's economy as it digs in for a war for which its leaders have articulated no endgame other than to weaken Hamas and stop militants in Gaza from firing rockets.
An operation launched with the aim of destroying militants' tunnels under the Israeli-Gaza border broadened into a ground offensive last week when Israel rolled in tanks and men to intensify its assault.
Israel's military has since then attacked with force along the border in Gaza's northern, eastern and southern border areas. As it deepened its offensive, at least 29 Israeli soldiers have been reported dead, and the death toll among Palestinians soared above 746, 51 of whom were killed on Thursday alone, according to Palestinian health officials.
In Israel, economists seeking to measure the potential cost of the conflict in blood and treasure are already comparing it to the 2006 war against Hizbollah in Lebanon, which lasted 31 days and was the longest in the country's history.
That war cut two percentage points off Israel's quarterly GDP and disrupted the economy in Israel's northern border regions, but growth rebounded later after it ended.
The only recent conflict that hurt Israel's economy was the second Palestinian intifada a decade ago, when long hostilities between Israel and Palestinians in the West Bank and Israel caused the country's deepest recession in decades.
On the first day of the current war, July 7, the shekel depreciated against some foreign currencies and there was a sell-off of stocks. As in most of Israel's past conflicts, markets returned to where they had been before, as investors appeared to reckon on a rebound after fighting stopped.
Israel's tourism industry, which had been reporting record numbers before the conflict, has seen many cancellations, but it accounts for only 2 per cent of GDP. "The tourism sector isn't a big mover and shaker in our economy," said Dan Ben-David, director of the Taub Center in Jerusalem.
The high-tech and resource companies at the heart of the Israeli economy have so far been unaffected, economists said.
"Assuming that this is going to be a brief episode, past experience indicates that we may have a drop in GDP growth of two percentage points, but all of that will be recovered," said Leo Leiderman, chief economist at Israel's Bank Hapoalim. "From a medium-term perspective, this has no impact."
He pointed out that the Lebanon war caused a spike in Israeli defence spending equivalent to 1 per cent of today's GDP.
Israeli GDP and foreign trade data, which would show the impact of the current fighting, will only be reported in August.
Financial Times