Kerry says 'some progress' in truce efforts as Gaza death nears 700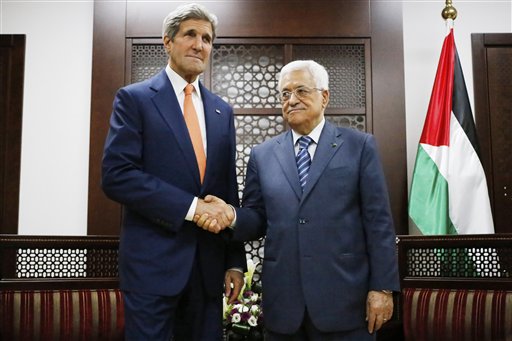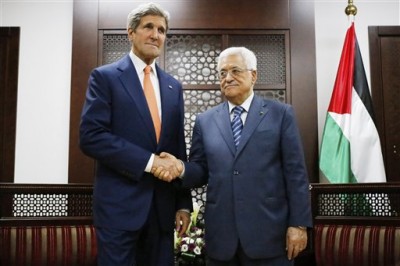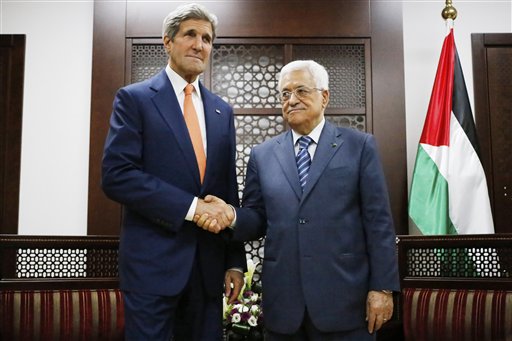 Washington's top diplomat said global efforts to end 16 days of bloodshed in Gaza were progressing Wednesday as the fighting raged on and airlines suspended flights over rocket fears.
As US and UN diplomats continued intensive diplomacy to end the violence, the Islamist Hamas movement hailed the suspension of Tel Aviv flights by many world airlines as a "great victory."
"The success of Hamas in closing Israeli airspace is a great victory for the resistance, and is the crown of Israel's failure," spokesman Sami Abu Zuhri said as traffic to Tel Aviv's Ben Gurion airport slowed to a trickle after a rocket hit close to runways on Tuesday.
As US Secretary of State John Kerry and UN chief Ban Ki-moon held talks in Jerusalem, they said they had pooled their efforts in the hope of boosting the quest for a truce in a conflict that has killed 685 Gazans, 34 Israelis and a Thai worker.
"We have certainly made some steps forward, but there is still work to be done," Kerry said as he met the UN chief for the second time this week.
"We are now joining our forces in strength to make a ceasefire as soon as possible," Ban said, warning there was no time to lose as concern mounted over the rising civilian body count.
The US diplomat offered a similar message to the Palestinians as he met president Mahmud Abbas in the West Bank city of Ramallah
"We have in the last 24 hours made some progress in moving toward that goal," he said before heading to Tel Aviv for talks with Israeli Prime Minister Benjamin Netanyahu.
Britain was also poised to add its weight to truce efforts as new Foreign Secretary Philip Hammond flew in for late-night talks with Abbas, the president's office said.
Hundreds shelter in church:
But neither Israel nor Hamas showed any indication of being ready to cease fire, despite days of diplomatic efforts to coax them into a truce.
Palestinian medics said at least 54 people were killed on Wednesday, hiking the death toll to 685 with a Gaza-based rights group saying more than 80 percent of them were civilians.
Most of Wednesday's dead were in Khuzaa on the Israeli border, close to the southern city of Khan Yunis, the scene of very heavy fighting since before dawn.
And in Israel, the army confirmed three more soldiers were killed in combat on Wednesday, raising to 32 the total number of soldiers killed since the start of a ground operation on July 17.
A Thai farm labourer also died when a rocket fired from Gaza struck the greenhouse where he was working in southern Israel, police said.
On the ground, the fighting was briefly suspended in several flashpoint areas to allow ambulances to extricate the wounded, the International Committee of the Red Cross said.
A spokeswoman said seven ambulances had entered Shejaiya near Gaza City and another nine ambulances had entered Khuzaa, while a third convoy had entered Beit Hanun in the north, although there was no immediate word on how many people they had rescued.
In Gaza City, hundreds of people, mostly women and children, packed into the pews of Saint Prophyrios Greek Orthodox church seeking shelter from the violence outside.
"Many of them, their houses are destroyed. Many people have been injured or killed. So we try to help these people," said Archbishop Alexios, one of Gaza's tiny community of 1,500 Christians.
Kerry's arrival in Tel Aviv came a day after a Gaza rocket struck close to the main international airport, prompting the US Federal Aviation Authority to ban commercial flights to and from Israel for at least 24 hours.
It renewed the ban for another 24 hours on Wednesday, citing the "potentially hazardous situation."
And its European counterpart advised all carriers to avoid Tel Aviv "until further notice" in a move mirrored Wednesday by Royal Jordanian and Turkish Airlines, prompting Hamas to hail a "great victory."
UN slams Israel, Hamas:
Kerry began his regional mission in Cairo, discussing ceasefire proposals with Egyptian President Abdel Fattah al-Sisi, that he said provided a "framework" to end the fighting.
An initial Egyptian proposal calling for a halt to hostilities ahead of talks was accepted by Israel early last week but rejected by Hamas, which wants agreement on a comprehensive package before holding its fire.
As the violence raged on, UN rights chief Navi Pillay condemned both Israel and Hamas at an emergency session of the UN Human Rights Council in Geneva.
She said Israeli attacks which had killed civilians, among them children, "could amount to war crimes" but also denounced Hamas for its "indiscriminate attacks" on Israeli civilians.
The Gaza-based Palestinian Centre for Human Rights said 81.5 percent of the dead were civilians, 24 percent of them children.
The UN Human Rights Council voted to launch a probe into Israel's Gaza offensive. The United States was the sole member to vote against, while European countries abstained.
A statement from the Israeli prime minister's office said the council's decision was "a travesty and should be rejected by decent people everywhere."
Business Recorder