Hezbollah taking credit for keeping I.S. out of Lebanon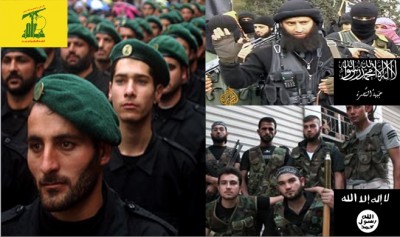 Hezbollah took credit for keeping the Islamic State (IS) out of Lebanon.
Hezbollah MP Hassan Fadlallah said that only Hezbollah can prevent the "caliphate" declared by jihadist group the Islamic State (IS) in parts of Syria and Northern Iraq from reaching Lebanon and destroying its political system.
"There would be nothing called Lebanon, no state or institutions, and no presidential or parliamentary elections, or even a cabinet or anything else," Fadlallah warned during a memorial ceremony in the village of Mais al-Jabal on Sunday.
"The project to set up an Islamic caliphate in Lebanon is not a fantasy, as some March 14 forces believe. The moment the Islamists are able to take control and remove the borders they will announce their state."
He added that: "If it weren't for Hezbollah, the borders would have been removed already."
The Islamic State seized vast swathes of northern Iraq last month, including the country's second largest city Mosul, and has since proclaimed a caliphate under the leadership of the its obscure leader Abu Bakr al-Baghdadi.
But former Hezbollah chief obviously disagrees with the current leadership and thinks that both Hezbollah and the radical Islamist terrorists are the same
Hezbollah's former Secretary-General Sheikh Sobhi Tufaili, an outspoken critic of the current leadership of the Iranian backed militant group blasted the Shiite party's military role in Syria, blaming it for deepening Shiite-Sunni tension in Lebanon and across the Middle East.
Tufaili told Saudi daily Al-Yaum during an interview that was published on Friday that Hezbollah was transformed by Iran into a killing machine as fanatic and radical as the Islamic State for Iraq and Greater Syria (ISIS), which is accused of committing atrocities in Syria's raging civil war.
"We regret to say that Hezbollah has been tuned into a sectarian party and a killing machine, as bad as takfiri groups, at the hands of the Iranians," Tufaili said.
He charged that Hezbollah's battle was directed against Muslims for the sake of defending "the regimes of corruption and tyranny," in reference to Syria and Iran.
"Hezbollah's involvement in the fighting in Syria against Syrian children and people is a main factor in igniting sectarian hostilities and animosity that only serve the Zionist enemy and its allies," Tufaili stressed.
Tufaili called for joint Arab efforts to "save the region" from rampant "sectarian madness."
"it is our duty to use all available means and exert all possible effort to restore peace in the region."
He added: "What we need are honest, non-sectarian leaders whose work would be of benefit to all subjects."
Tufaili , who is one of the founders of Hezbollah was its spokesman between 1985 and 1989, and the party's first Secretary-General from 1989 until 1991. In July 1997 he broke away from Hezbollah and organized protests, dubbed the "hunger revolution".
In February 2013, Tufaili berated Hezbollah for fighting on behalf of the Syrian regime in the Syrian civil war. He said "Hezbollah should not be defending the criminal regime that kills its own people and that has never fired a shot in defense of the Palestinians". Tufaili added: "those Hezbollah fighters who are killing children and terrorizing people and destroying houses in Syria will go to hell". He also berated the Lebanese Army for not stopping Lebanese citizens crossing the border to fight in Syria.