13 Israeli soldiers killed as Gaza death toll climbs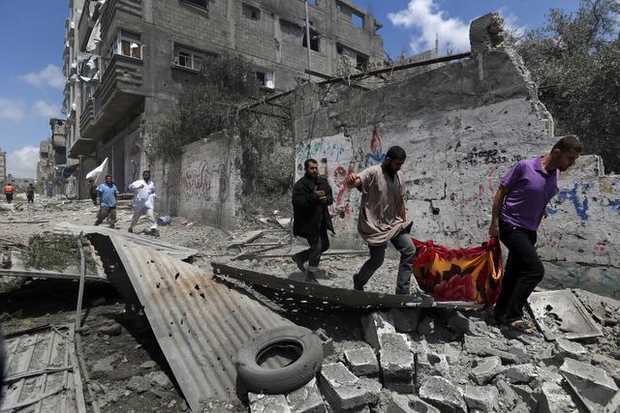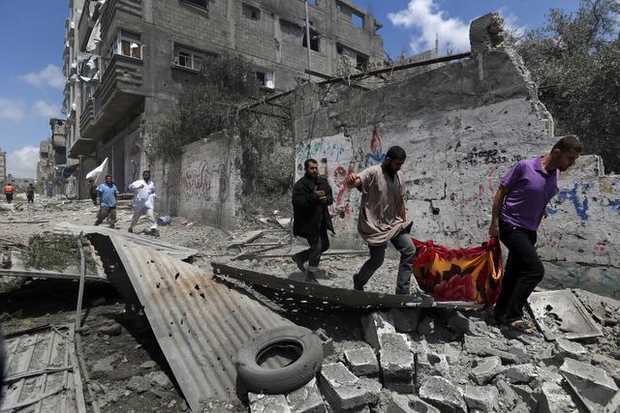 In the bloodiest day of the nearly 2-week-old conflict, the Israeli military said Sunday that 13 of its soldiers were killed fighting with militants as the Palestinian death toll climbed to 425 after a major battle in a crowded Gaza City neighborhood.
At least 65 Palestinians were killed Sunday in Shijaiyah as Israel continued to demolish shafts and tunnels in expanded operations that included airstrikes and gun battles. At least 425 Palestinians have been killed and another 3,000 wounded since the conflict began nearly two weeks ago, according to Gaza Health Ministry officials.
Two of the Israeli soldiers killed Sunday were dual U.S.-Israel nationals, the Times of Israel reported. The deaths bring the total number of Israeli military casualties to 18. Two civilians have also been killed by attacks in Israel.
Hundreds were wounded and thousands forced to flee Shijaiyah as dozens of homes were damaged or destroyed by the fighting, which included heavy Israeli tank fire. The battle was the deadliest so far since Israel started its ground offensive late Thursday night.
Lt. Col. Peter Lerner, an Israeli military spokesman, said Hamas militants put up a "huge" level of resistance in the neighborhood, using anti-tank missiles, rocket-propelled grenades and automatic weapons fired from houses and buildings. The Israeli military said 8% of the more than 1,700 rockets fired from Gaza since July 8 were from the neighborhood.
Lerner said that 10 tunnel-access shafts had been found in the area so far. Israel says the tunnels are used by Hamas to carry out attacks, but Gaza maintains they bring in essential supplies such as food and fuel.
U.S. Secretary of State John Kerry told CNN that Israel is justified in taking action to protect itself from attacks launched from Gaza, though he acknowledged that the civilian impact of the conflict is unsettling.
"Nobody, no human being can be comfortable with children being killed, but we're not comfortable with Israeli soldiers being killed either," he said Sunday.
Israeli Prime Minister Benjamin Netanyahu, also speaking on CNN, re-iterated that the military is only targeting militants in its campaign.
"All civilian casualties are unintended by us, but intended by Hamas. They want to pile up as many civilian dead as they can … it's gruesome," Netanyahu said. "They use telegenically dead Palestinians for their cause."
Gaza residents say they are feeling the effect of the closure of the tunnels, which include ones shuttered by Egypt.
"Daily power cuts worsen the already dire situation," said Nafiz Hamed, 30, of Gaza City. "Ultimately there will be a cease-fire (and as part of that), we want the Egyptian-controlled Rafah crossing to open permanently, so that all goods can come in. We want to build our future and (fulfill) our dreams."
An Egyptian-brokered cease-fire was rejected by Hamas last week after the group said it was not consulted over the truce. Egypt's new government is hostile to the Muslim Brotherhood of its last president Mohammed Morsi, who was ousted last year, and by extension to its counterpart in Gaza, Hamas said.
Hamas also said any cease-fire agreement must include a lifting of the blockade by Israel and the opening of the borders with Egypt.
"The Egyptian leadership should stand by us (but) how can they be honest brokers for a cease-fire when they close the Rafah crossing?" asked Hamed.
Shortages and frequent shelling have taken their toll on locals. At the same time, residents add any truce must be meaningful.
"Of course we want truce, we want to live in peace, not violence but you tell me how is that possible while we are under Israeli-Egyptian siege," said Yusra Mohammad, 26, of Gaza City. "Israel must know that we will not accept the policy of collective punishment."
USA Today