Israel more barbaric than Hitler, says Turkish PM
Turkish Prime Minister Recep Tayyip Erdogan has accused Israel of "barbarism that surpasses Hitler" during its ground invasion of Gaza.
Erdogan accused Israel of using disproportionate force in Gaza and said the operation there has derailed efforts to normalize Turkish-Israeli ties. Those soured after Israel's 2010 raid on an aid ship which killed eight Turks and a Turkish-American.
Erdogan spoke in a campaign speech Saturday in the Black Sea port city of Ordu. He is running for the presidency in elections next month.
He has been speaking out strongly against Israel during its offensive against Hamas militants in Gaza, which has killed more than 300 Palestinians.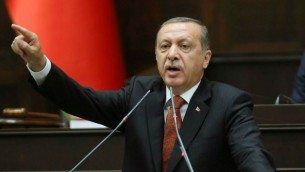 Hundreds have also staged protests in recent days outside Israeli diplomatic mission in Ankara and Istanbul and more were scheduled for later Saturday.
Chron/AP