Jumblatt: Helou ready to pull out of the presidential race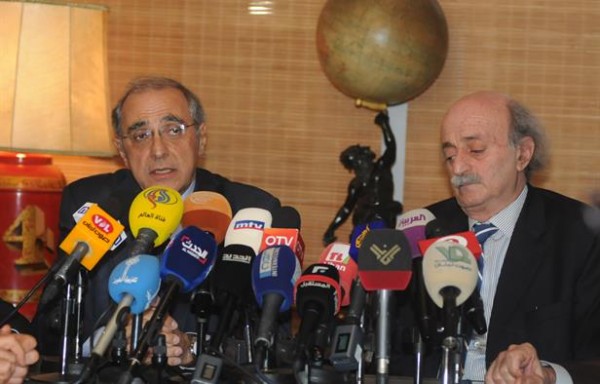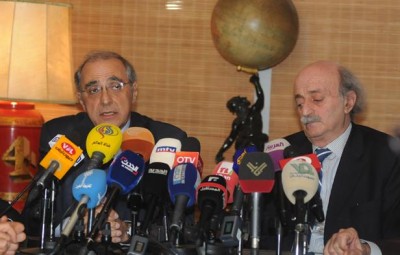 Progressive Socialist Party leader MP Walid Jumblatt revealed that he was ready to pull out of the presidential race the candidacy of Aley lawmaker Henri Helou if the other candidates do likewise in an attempt to resolve the country's presidential deadlock.
Jumblatt told As Safir newspaper in remarks published on Tuesday : "We should seek to safeguard the country by placing the nation's interest able any other interest."
"This would materialize by speedy concessions made by everyone and through the election of a consensus president who is capable of managing the crisis," he said.
Jumblatt has been backing Helou's candidacy , saying Lebanon needs a centrist president.
Other candidates include Lebanese Forces chief Samir Geagea, who has received the backing of the March 14 camp, and his rival Free Patriotic Movement leader MP Michel Aoun.
But Aoun has not officially nominated himself, claiming there should be consensus on him first.
According to Jumblat, the withdrawal of Geagea's candidacy does not constitute a problem. The main issue is Aoun.
"Hezbollah should play a major role in convincing his ally to pull out of the presidential race ," he said. "But until now, this seems to be impossible."
Background information
The Lebanese lawmakers failed again July 2 to elect a president for the eighth time, prolonging a political vacuum as the country struggles with violence, economic decline and an influx of Syrian refugees.
After Geagea secured 48 votes last April 23, the Hezbollah led March 8 alliance including FPM leader Michel Aoun and Marada leader Suleiman Franjieh walked out from the parliament to make sure there was no quorum to elect a president. They continued their boycott of the parliament during the 7 other sessions that followed .
Both Aoun and Franjieh boycotted also the July 2 session.
Aoun who has not officially announced his candidacy but he aspires to be the next president was quoted as saying last month
"I will announce my nomination when the political situation in parliament becomes clear and when (the current candidates) are dismissed."
The civil war in neighboring Syria has aggravated long-standing rivalries in Lebanon, where political power is divided among religious communities – the presidency goes to a Maronite Christian, the parliament speaker is a Shi'ite Muslim and the prime minister a Sunni.
Some of Lebanon's deepest political divisions come over the handling of the Syrian crisis, which has driven over 1 million refugees into Lebanon.
Politicians from the March 8 coalition, which includes Shi'ite Muslim group Hezbollah, support Syrian President Bashar al-Assad. The rival March 14 coalition backs Assad's opponents.
The deadlock comes at a time of worsening security. Three suicide bomb attacks late last month targeted Beirut and a checkpoint on the road to Syria. The Syrian crisis and the political stalemate have also hit the Lebanese economy, prompting the central bank to introduce stimulus packages.