Russia's Vladimir Putin meets with Cuba's Fidel Castro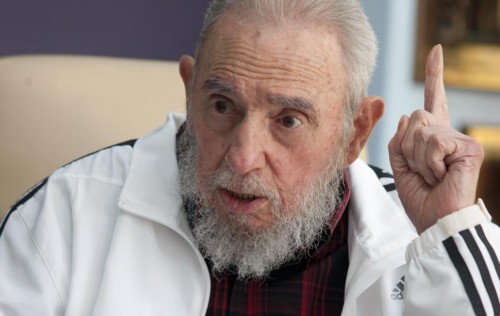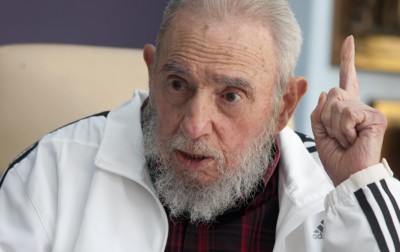 Russian President Vladimir Putin met former Cuban leader Fidel Castro and current President Raul Castro on Friday to begin a six-day tour of Latin America in which Russia is seeking to reassert its influence on the communist-ruled island.
The Russian president's journey to the backyard of the United States comes as he is under pressure from the West to help restrain pro-Russian separatists in Ukraine and urge Ukrainian rebels to find a negotiated solution.
Putin will also visit Argentina and Brazil for bilateral talks, and while in Brazil he will participate in a summit of the so-called BRICS nations of Brazil, Russia, India, China and South Africa on Tuesday and Wednesday.On his first stop in Cuba, the Cold War ally of the former Soviet Union situated only 90 miles (145 km) from the United States, Putin joined Raul Castro in laying a wreath at a monument to Soviet soldiers in Havana and another at the monument to Cuban national hero Jose Marti.
Both delegations were dressed in dark business suits, atypical attire in tropical Cuba, where the guayabera shirt is considered formal wear.
"We have to change the protocol," Raul Castro told Putin under the hot Cuban sun. "We don't wear ties in this country. It's guayaberas and sombreros, shorts and sandals.
"This isn't a country for working, much less for making war. This is a country for resting. What do you all think?"
Putin later met with Fidel Castro, 87, who for health reasons stepped down in favor his brother in 2008 after 49 years in power. No details of the encounter were made public.
Putin is also promoting Russian trade with Cuba, a market cut off to U.S. companies because of Washington's 52-year-old economic embargo.
Russian state oil companies Rosneft and Zarubezhneft will finalize a deal to explore for offshore oil, one of several commercial agreements expected to be signed later on Friday.
Rosneft Chairman Igor Sechin, a close Putin ally, is traveling with the Russian delegation. Sechin is one of the Russian executives the United States has targeted for U.S. economic sanctions because of the Ukraine crisis. The United States has blacklisted individuals believed to be part of Putin's inner circle, and Sechin is among the most influential people in Russia after the president.
Any major oil find would be a boost for Cuba, which is desperate for foreign investment and has difficulty meeting obligations to creditors.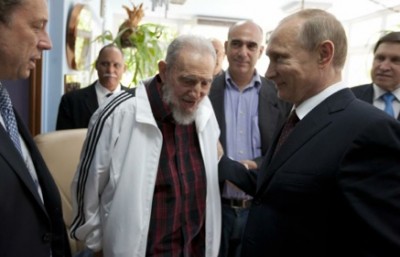 Russia's State Duma approved a deal last week to forgive 90 percent of Cuba's debt, or almost $32 billion, most of it originating from Soviet loans to a fellow communist state.
Putin has said the remaining $3.5 billion that Cuba owes would be invested in development projects in Cuba. Diplomats based in Havana have said Russian creditors could take equity stakes in Cuban state companies as part of the deal.
NY Daily News