Israel presses on with Gaza offensive, as mostly civilians killed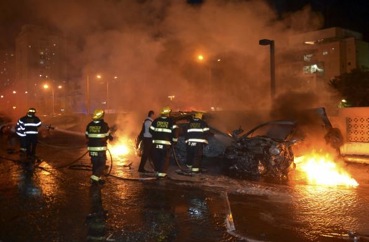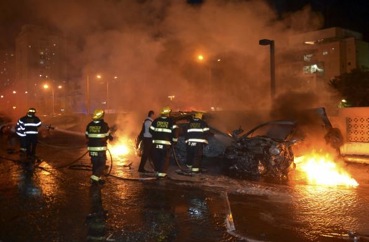 Israel pressed on for a fourth day with its Gaza offensive on Friday, striking the Hamas-dominated enclave from air and sea, as Palestinian militants kept up rocket attacks deep into the Jewish state.
At least 79 Palestinians, most of them civilians, have been killed in the offensive, which Israel says it launched to end persistent rocket attacks on its civilian population, some of which have reached Tel Aviv, Jerusalem and other cities.
The salvoes into Israel have caused no fatalities or serious injuries, due in part to interception by Israel's partly-U.S. funded Iron Dome aerial defense system.
One rocket on Friday hit a petrol station in Israel's port city of Ashdod, causing a huge blaze and at least three people were seriously wounded, an ambulance spokesman said.
Israeli leaders have appeared to hint at a possible invasion by ground forces and some 20,000 army reservists have been mobilized, giving them the means, if they choose, to mount a land offensive.
Lebanese security sources said two rockets were fired into northern Israel on Friday but they did not know who had fired them. Israel responded with artillery fire at the source of the rockets.
Israel's chief military spokesman, Brigadier-General Motti Almoz, said one rocket fell near Kibbutz Kfar Yuval and that there were no casualties or damage.
Gaza medical officials said four people were killed in Israeli pre-dawn attacks. The Israeli military said fresh naval and air strikes were launched early, but a spokeswoman gave no further details.
An air strike on a house in Gaza City killed a man described by officials as a doctor and pharmacist. Medics and residents said an Israeli aircraft bombed a three-storey house in the southern town of Rafah, killing three people.
The Palestinians said Israeli tanks fired shells east of Rafah, naval forces sent shells into a security compound in Gaza City and aircraft bombed positions near the borders with Egypt and Israel.
Prime Minister Benjamin Netanyahu said in a televised statement on Thursday: "So far the battle is progressing as planned, but we can expect further stages in future. Up to now, we have hit Hamas and the terror organizations hard and as the battle continues we will increase strikes at them."
Netanyahu discussed options with his security cabinet as new air strikes were launched and officials hinted at a ground offensive. There was no word on when or if this might happen.
The last time they undertook such an offensive was in early 2009. Ground troops did not cross into the Strip, one of the world's most densely populated territories, during the last major exchange of rockets and missiles in October 2012.
"We have long days of fighting ahead of us," Defence Minister Moshe Yaalon said.
Hamas spokesman Sami Abu Zuhri sounded a defiant note, when asked about Yaalon's remarks. "Our backs are to the wall and we have nothing to lose," he said. "We are ready to battle until the end."
The Israeli military said more than 470 projectiles have been fired at Israel since Tuesday by Islamist Hamas, the dominant force in Gaza, and by other militant groups.
Some rockets have landed more than 100 km (60 miles) from Gaza. Sirens sounded as far north as the Israeli city of Haifa on Friday, though police said no remnants of rockets, which Hamas said it had fired, were found.
CHILDREN AMONG THE DEAD
Medical officials in Gaza said at least 60 civilians, including a four-year-old girl and a boy of five killed on Thursday, were among the 79 Palestinians who have died since the offensive began on Tuesday.
U.S. President Barack Obama told Netanyahu by telephone on Thursday that the United States was willing to help negotiate a ceasefire, the White House said.
French President Francois Hollande voiced his concern at the civilian deaths and called for a truce. A spokeswoman for U.S. Secretary of State John Kerry, who like Hollande spoke to Palestinian President Mahmoud Abbas, said: "Nobody wants to see a ground invasion."
Kerry spoke to his Egyptian counterpart in an attempt to get Egypt to use its influence to calm the situation, State Department spokeswoman Jen Psaki said. Kerry, she said, had also "reached out" to Qatar.
Cairo brokered a truce in the 2012 conflict, but the current military government's hostility towards Hamas could make mediation more difficult.
The Israeli offensive followed a build-up in violence after three Israeli students were killed in the occupied West Bank last month and a Palestinian youth was killed in a suspected revenge attack in Jerusalem.
Israel says it has struck more than 860 targets in Gaza. Palestinian rocket fire escalated after Israeli forces arrested hundreds of Hamas activists in the West Bank while searching for the youths, who Israel said were abducted and killed by Hamas.
Israel's targets have included militant commanders' homes, which it described as command and control centers. Palestinian officials put the number of dwellings destroyed or damaged at more than 120. Residents said some of the houses did not belong to fighters.
Owners of some of the targeted homes received telephoned warnings from Israel to get out. In other cases, so-called "knock-on-the-door" missiles, which do not carry explosive warheads, were first fired as a signal to evacuate. Scenes of families fleeing their homes have played out daily.
Residents said in Friday's attack in Rafah no warning was issued and the victims were asleep when their house was bombed.
U.S.-backed Abbas, who is based in the West Bank and entered a power-sharing deal with Hamas in April after years of feuding, has denounced the Israeli offensive.
Reuters