Freed Indian nurses say ISIS militants protected them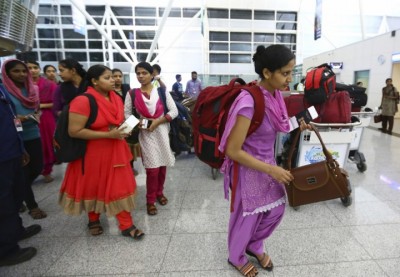 The Indian nurses, who were abducted by the Sunni insurgent group the Islamic State of Iraq and the Levant (ISIS), have only good things to say about the "bearded boys" after a three-week-long captivity.
The 46 nurses, who were working at a hospital in Iraq's former ruler Saddam Hussein's hometown of Tikrit, were abducted by the ISIS rebels last month.
They were then moved out on Thursday against their will and detained in the militant-held city of Mosul, 250 km from Tikrit.
Some of them said they don't feel like calling them abductors because they actually protected them in the strife-torn country.
"Our apprehension really forced us to hate them. But later we found in such a lawless situation they were protecting us. At their mercy, they could have done anything to us but they never misbehaved or taunted any of us," said NS Shruti, one of the freed nurses who belongs to the outskirts of port city of Kochi.
Though polite initially, they changed their tone later.
"It seems they were under tremendous pressure to protect us. Since they also a feared an attack from government forces they were under terrible pressure," she said.
They were allowed to make calls to their home initially but once they were shifted to Mosul they were strictly told not to use phones.
But they managed to call their relatives and that really helped the authorities.
"Those who had more than one mobile phone hid the additional one. And we used to make calls under the pretext of going to the toilet," said another, adding they were given food and water at regular intervals.
The nurses were freed by the ISIS rebels on Friday and a special Air India flight brought them home on Saturday to emotional family members.
"What really scared us was they always covered their faces. They often changed the guard who kept a watch on us. So, it was tough to be friendly with them," said Sinu Mol.
Mol said language was a big barrier in communicating with them.
"There was a Bangladeshi employee in the hospital (in Tikrit where they worked) who knew Arabic. We used to communicate through him," she added.
Most of them said their four-hour-long trip to Mosul was most horrifying.
They said their trucks were intercepted at many points and more rebels entered their vehicles multiplying their anxiety.
"We could see half-burnt vehicles and wailing relatives all along. We could really gauge the intensity of the civil war on our way to Mosul," she said.
Five of them received minor injuries when the rebels blew up the Tikrit hospital after vacating the nurses.
"We don't have any ill will against the rebels. But the intensity and ferocity of the war really scared us. We never thought we would be back alive," said Marina Jose.
Hindustan Times