Bassil calls Syrian refugees in Lebanon 'unconsitutional'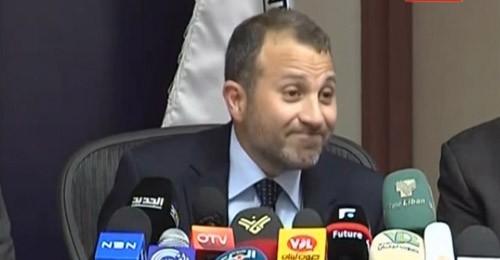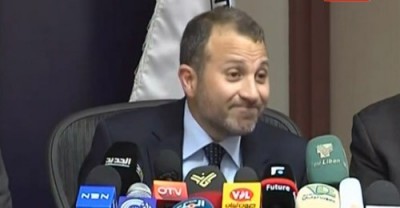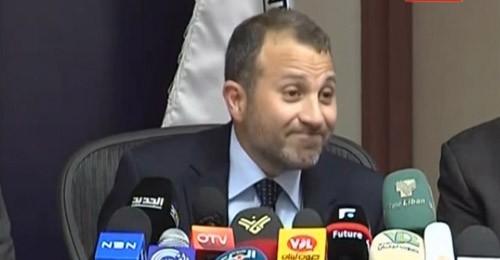 Foreign Minister Jebran Bassil warned on Friday of the rising tensions between the Lebanese people and Syrian refugees due to the burden the latter is posing on Lebanon, rejecting the establishment of camps for the displaced within the country.
He said during a press conference: "Legitimizing Syrian refugee camps is a violation of the constitution, which speaks against nationalization."
"We request that the Syrian authorities set up camps for the displaced within Syrian territories," he added.
"Should the government consider establishing the camps, we know that there is an alliance within the cabinet that would oppose such a measure," Bassil said.
"We will not condone such a step, because this is a veiled attempt to naturalize the refugees," he stressed.
The minister emphasized that Lebanon has taken in the greatest number of refugees and has been very hospitable to them, noting that they now exceed 35 percent of the population.
"Lebanon is witnessing a major catastrophe over the refugees," Bassil stated.
He called for improving the flow of the displaced, noting that Europe, "which has played a pioneering role in protecting human rights, has even taken measures to control the influx."
The minister lamented however that the international community has not given Lebanon enough aid in helping it harbor the refugees.
"Lebanon is not a priority for the international community. It has forgotten the small country that is Lebanon," he remarked.
"It has committed a grave mistake in tackling the case of refugees in Lebanon due to the errors it made in Syria," he added.
"I will honestly tell you that no one is concerned with resolving this crisis," he said.
"The refugees should be given incentives by the international community to leave Lebanon, not stay," Bassil explained.
He called for the reduction of the number of refugees, either through cooperation with the international community or unilateral steps, by the government, that respect human rights.
Lebanon currently hosts 1.1 million refugees, the highest number at 38 percent of Syrian refugees fleeing the war-torn country for other countries in the region.
The U.N. says the country needs $1.6 billion (1.2 billion euros) for 2014 to be able to cope with the refugee crisis, but that only 23 percent of this has been gathered.
According to Central Bank of Lebanon statistics, the country faces a financial burden of $4.5 billion because of the refugee crisis.
In May, the Lebanese authorities took a decision to ban Syrian refugees from heading to their country or lose their status.
Naharnet