Bodies of 3 abducted Israeli teens found shot to death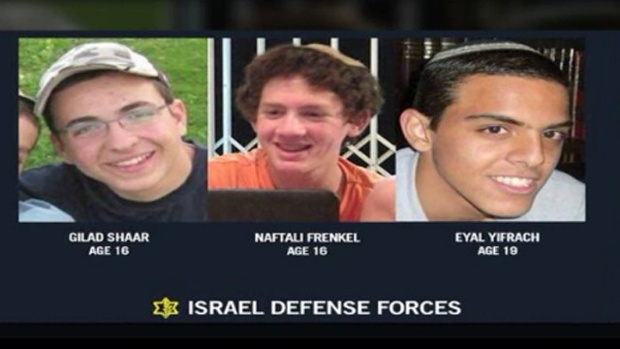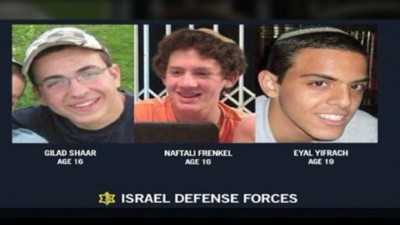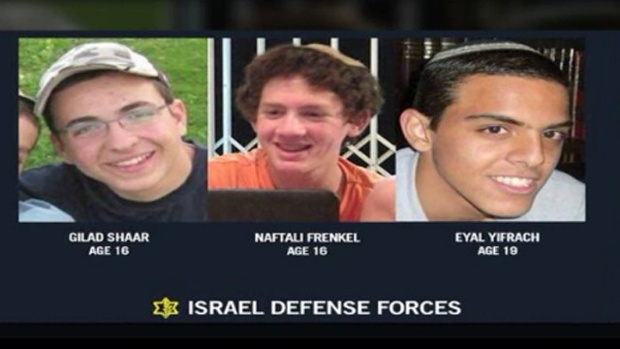 teens
The bodies of three Israeli teenagers, who were kidnapped on their way home from religious school in the West Bank two weeks, have been found shot to death, the Israeli media reported Monday.
Israeli TV and the Jerusalem Post reported that the bodies were found near Hebron about three miles from where they were abducted June 12.
"It's 100% confirmed, they were found in a city called Halhul north of Hebron" in the West Bank, said Jonny Daniels, an advisor to Israel's deputy defense minister, Danny Danon, told USA TODAY.
Israel's Prime Minister Benjamin Netanyahu is in an emergency meeting with his security cabinet to discuss how Israel will respond, Daniels said. "Abu Mazen will have a price to pay," he said, using the nom du guerre of Palestinian President Mahmoud Abbas, whose Fatah party rules the West Bank.
The news gripped the nation, Daniels said.
"It really is a shock," he said. "You can hear people even in the bars and clubs are turning off the World Cup to turn on the news."
The students, Naftali Fraenkel and Gilad Shaar, both 16, and Eyal Yifrach, 19 disappeared while hitchhiking home, prompting the Israeli military to carry out one of the biggest sweeps of the West Bank in a decade.
Israel's domestic security agency has already named two Palestinian suspects in the abductions — Marwan Kawasma and Amer Abu Aysha, who are described as operatives in the Islamist militant group Hamas.
Haaretz reports that a large Israeli military force had assembled north of Hebron on the West bank money evening in search of the missing teens.
A committee investigating the teens disappearance said Monday that it found a "severe failure of conduct" by operators of the Judea and Samaria Police emergency hotline on the night of the kidnapping.
Several officer were immediately dismissed over what the investigating committee described as a "mishandling of the telephone call received at the center, as far as the professional standards expected from emergency hotline operators on all levels, and which included all the ranks: police, officers and commanders involved," Haaretz reports.
According to the committee's report, a telephone call was made to the police at around 10:25 P.M. by one of the abducted teens who said, in a soft voice, "I have been kidnapped."
The report says those on duty tried to speak with the a teen and called back a traced number no less than eight times but, in the end, a manager and shift supervisor decided not to look into the call any further.
Tensions have been high between Israel and Hamas since the kidnapping, which came 10 days after Palestinian leaders formed a unity government with Hamas and the Fatah party of Palestinian President Mahmoud Abbas, a union strongly opposed by Israel.
Israeli security forces searching for the teens have raided more than a 1,000 Palestinian homes in the West Bank and rounded up hundreds of Palestinians, including senior Hamas leaders, and prisoners recently released to advance U.S.-brokered peace talks that later failed. Five Palestinians have died in clashes over the rescue operation.
Since June 27, militants fired at least 30 rockets and mortar shells at southern Israel, including four intercepted by Israel's Iron Dome missile defense system, according to AFP. The Israeli air force has struck back killing three Palestinians.
At least 15 rockets were fired at Israel Sunday night after Israel launched air strikes against a suspected Hamas rocket launchers in the Gaza Strip Saturday and Sunday, killing a member of the Hamas military wing, according to the militant group. Rockets fired from the Palestinian territory into Israel damaged a home and set a fire Saturday in a plastics factory in the Israeli town of Sderot, according to the Jerusalem Post.
Earlier Monday Israeli leaders said will launch an invasion of the Gaza Strip if necessary to stop renewed rocket fire from the coastal area controlled by the Palestinian Islamist terror group Hamas.
Israeli Prime Minister Benjamin Netanyahu told members of his security cabinet that either Hamas will end the rocket fire from Gaza or Israeli forces will do so, like they did in 2012, in a mini-war that Israel dubbed Operation Pillar of Defense.
"I say in the clearest way possible, if the quiet that was achieved after Operation Pillar of Defense will be breached and the firing continues, there are two options – either Hamas will stop it, or we will stop it," Netanyahu said, according to Israeli TV station Arutz Sheva. "We will not allow the continuation of this (rocket) firing."
The 2012 operation involved eight days of Israeli air strikes against Hamas targets in Gaza and was intended to stop rocket fire on communities in southern Israel. It ended before a threatened invasion with a truce brokered by Egypt. Sporadic rocket fire from Gaza continued, but the majority of those attacks were claimed by terrorist factions other than Hamas, Arutz Sheva reported.
Reserve Maj. Gen. Giora Eiland, a former National Security Advisor in Israel, told Israeli radio Reshet Bet that a ground action is likely in the coming days if the situation doesn't calm down.
"I estimate that there will be an Israeli action, or at least there will be a call for an Israeli action that is much more massive – like Operation Pillar of Defense maybe even bigger than it, in order to achieve a renewed deterrence for another period of a year or two," Eiland said.
420 arrested
Israeli security forces arrested six Palestinians, five of them Hamas members, in the West Bank overnight Sunday, the Israeli military said in a statement Monday.
A total of 420 Palestinian suspects have been detained since the beginning of "Operation Brother's Keeper" to locate the three Jewish teenagers that were kidnapped while hitchhiking in the West Bank on June 12.
USA Today/YL