Suicide bomber injures 20 in Beirut's Hezbollah stronghold- Pictures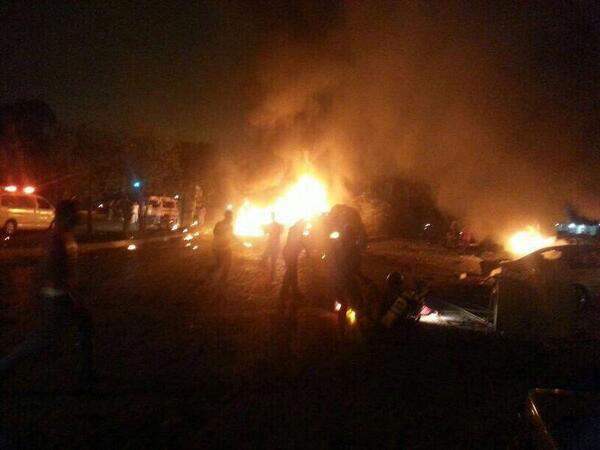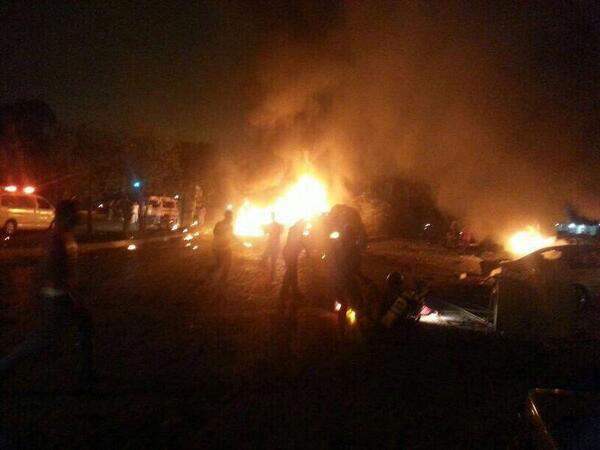 Another suicide car bombing took place around midnight Monday, but this time near the Shatila round about in the Tayyouneh area at the entrance to Hezbollah's stronghold of Dhahieh south of he capital Beirut injuring at least 20 people, National News Agency reported on Monday
The explosion happened near an army checkpoint and cafe Abu Abbas where football fans were watching the World Cup.
Military sources told LBCI television that no troops were hurt in the attack.
There were conflicting reports about the the suicide bomber . MTV said a "female suicide bomber" wanted to cross the checkpoint but blew up the vehicle ,a 1966 Mercedes 180 carrying a license plate with the number 144631/O when troops detected her suspicious behavior."
An Nahar on the other hand reported that it was a male who was spotted minutes earlier near the cafe by two young men who said that he spoke in Syrian accent and appeared confused and scared and claimed his car broke down. The young men were suspicious and went to tell the army checkpoint about him and when he saw them near the checkpoint he blew up the vehicle .
"The force of the blast ejected the terrorist's corpse to the wall of the fourth floor of a building at the site of the explosion," NNA added.
This suicide car bombing comes three days after another suicide attack at the Dahr al-Baydar checkpoint in the east of the country left one Internal Security office dead and 33 wounded. The attack was the first inside Lebanon since March.
Most of the recent bombings in Lebanon have taken place in Hezbollah strongholds in southern Beirut and the Beqaa region.
Several Syrian rebel organizations claimed responsibility for the various  attacks which  were reportedly  in retaliation for Hezbollah's involvement in the Syrian civil war.
Tens of thousands of Hezbollah fighters are helping the Syrian regime in its war against the Syrian rebels  who are trying to topple the 40 year old dictatorship of the Assad regime and the Baath party .
Here are more pics of the bombing attack: