U.N. urges Egypt to end death penalties, free Al Jazeera reporters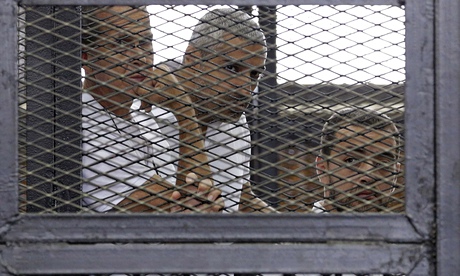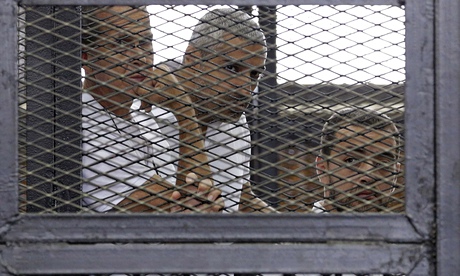 Egypt should free three Al Jazeera journalists who were jailed on Monday for seven years and stop the "obscene" practice of holding mass trials of government opponents that end in death penalties, U.N. human rights chief Navi Pillay said.
"Egypt's reputation, and especially the reputation of its judiciary as an independent institution, are at stake," she said in a statement. "There is a risk that miscarriage of justice is becoming the norm in Egypt."
U.N. Secretary-General Ban Ki-moon is deeply concerned by the sentencing of the journalists and the death sentences confirmed on Saturday for 183 Muslim Brotherhood members and supporters in Egypt, his spokesman said in New York.
"Proceedings that clearly appear not to meet basic fair trial standards, particularly those resulting in the imposition of the death penalty, are likely to undermine prospects for long-term stability," Stephane Dujarric told reporters.
"The Secretary-General stresses that participation in peaceful protests or criticism of the government should not be grounds for detention or prosecution."
The journalists were sentenced for helping a "terrorist organisation" by spreading lies, a verdict that stunned the courtroom and prompted Britain to summon Egypt's ambassadors to protest against the judgment.
"Crushing media reporting will only hinder Egypt's efforts to come through this period of social and political turmoil," Pillay said. The sentences can be appealed, but the charges were "far too broad and vague, and therefore reinforce the belief that the real target is freedom of expression", she said.
The Al Jazeera verdicts and the death sentences are the latest in a string of prosecutions "rife with procedural irregularities and in breach of international human rights law", Pillay said.
"I believe these mass trials and death penalty convictions are obscene, and a complete travesty of justice."
She urged the government to review the laws on which the trials were based, especially the Anti-Terrorism Law and the so-called Protest Law used to arrest and convict dozens of protesters since November 2013.
Reuters