Iran's Rouhani calls for independent judiciary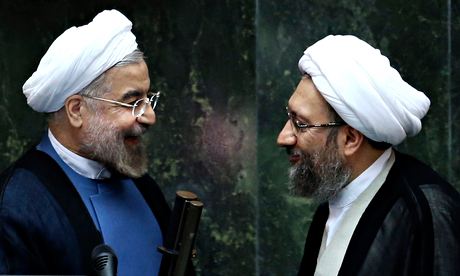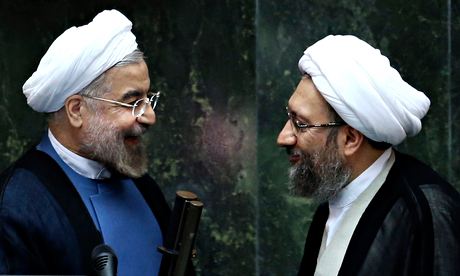 President Hassan Rouhani said today that Iran's judiciary must be independent from the political fray and uphold the rule of law, in a rare criticism of the conservative-dominated body.
The self-declared moderate president was speaking at a gathering of hundreds of judges, among them judiciary chief Ayatollah Sadeq Larijani.
"The judiciary branch must remain non-partisan. The rulings of a court must be meted out by the court, not by someone who feels as if he has influence," Rouhani said in the remarks broadcast live on state television.
"Political factions can comment on issues but they should not be allowed to issue a ruling. No lobbying group must be able to influence the court or the judge," he added, without giving any examples.
A pro-Rouhani university professor, Sadeq Zibakalam, was given a year-long jail sentence this week for criticising conservative opponents of the government's ongoing nuclear negotiations with world powers.
Some of Rouhani's troubles with the judiciary stem from factional challenges. But his more liberal views on implementing social freedoms in the Islamic republic has also sparked rows.
Last month, he came under fire from hardline clerics and authorities, including Larijani, for arguing against the use of force to promote cultural and religious values, saying: "One cannot take people to heaven by force and the use of a whip."
Today, Rouhani, himself a mid-ranking Shiite cleric, also demanded the judiciary remain "independent" and preserve justice based on Iran's interpretation of Islamic sharia law in place since the 1979 revolution.
"The presumption of innocence must prevail. But why is it that sometimes this is weakened and not practised," he added, without elaborating.
"The bench must speak based on the rule of law, and act based on the rule of law no matter who is being tried."
Another bone of contention between Rouhani and the judiciary is the closure of newspapers, some of which have been accused of spreading lies and rumours.
Three reformist dailies have been banned since Rouhani took office last August, while suspensions have also been handed out, including to a conservative paper.
Zee News/AFP