Half of Syria's population needs humanitarian aid, report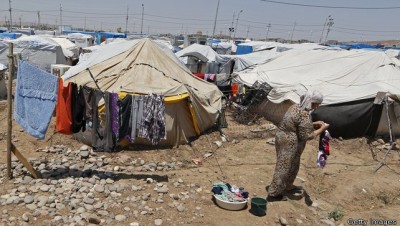 The number of Syrians in urgent need of humanitarian aid has jumped to 10.8 million – nearly half of Syria's population of 22 million – United Nations chief Ban Ki-moon has said.
Mr Ban said that a total of 4.7 million Syrians are now in areas that are "difficult or impossible" for humanitarian workers to reach, including 241,000 in besieged areas.
That is an increase from the previous estimate of 3.5 million people.
The report warned that advances made by Islamic State of Iraq and the Sria (ISIS), also known as ISIL, militants in Iraq would only further worsen the situation in Syria.
"Efforts to expand humanitarian assistance to those most in need have been met with continued delays and obstruction," the report said.
"Far from improving access, new procedures rolled out two months ago have resulted in more delays and reduced the reach of humanitarian partners further."
Of the 10.8 million total people in need of aid – a 17%, or 1.5 million increase from previous estimates – about 6.4 million are internally displaced.
An estimated 160,000 people have been killed in the conflict.
The report comes as Western powers work toward a new Security Council resolution that would guarantee the delivery of aid.
But in a letter to the UN Security Council, dated last Wednesday, the Syrian mission warned it would consider any enforced cross-border delivery of humanitarian aid without prior agreement from Damascus as an "attack" on the state.
The letter, signed by Syrian and Arab lawyers, warned that the state must give consent for imports of any humanitarian aid.
"Importing aid in co-ordination with terrorist organisations and without consultation with the Syrian state would amount to an attack on the Syrian state," said the letter.
It claimed it could be used as a "pretext for aggression."
Syria opposes the delivery of cross-border aid that would send supplies directly to areas held by the armed opposition in its more than three-year brutal civil war.
Council members have been discussing for weeks a draft resolution that would enforce humanitarian aid deliveries across the Jordanian, Iraqi and Turkish borders into Syria.
Russia, president of the council in June, said it had proposed an "elegant innovative formula" that ambassador Vitaly Churkin said Western partners have not yet accepted.
Australian ambassador Gary Quinlan said the Russian proposal was "not good enough" and potentially counterproductive.
"We need to make sure it works on the ground and generates greater access but we are not convinced it is the case," he told reporters.
Russia has already vetoed four Security Council resolutions on the Syrian conflict, protecting its close ally Damascus, and the impasse has paralysed international response to the catastrophe.
RTE