Afghanistan's Abdullah cries foul calls for halting ballots count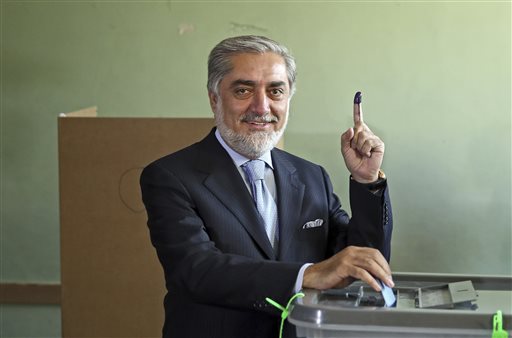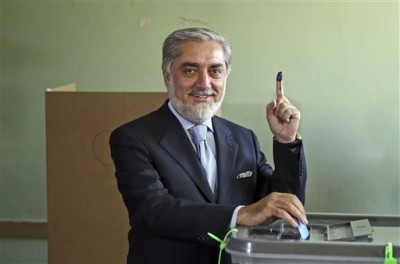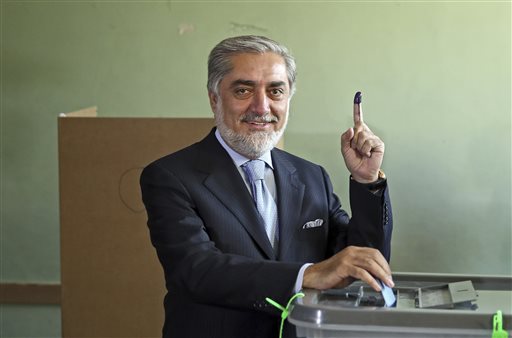 Afghan presidential candidate Abdullah Abdullah on Wednesday demanded election organisers stop counting ballots because of what he said was widespread fraud, potentially derailing what is seen as a make-or-break vote before most foreign troops leave.
Millions of Afghans turned out on Saturday for a second-round run-off to elect a successor to President Hamid Karzai, a decisive test of the country's ambitions to transfer power democratically for the first time in its tumultuous history.
The run-off pitted former anti-Taliban fighter and former foreign minister Abdullah against ex-World Bank economist and former finance minister Ashraf Ghani after neither secured the 50 percent needed to win outright in the first round on April 5.
Afghanistan has for months been consumed by the electoral process which has been marred by attacks by the Taliban who say the vote is a U.S. ploy.
Abdullah said preliminary figures and other evidence collected by his team showed mass fraud had undermined the process.
"The counting process should stop immediately and if that continues, it will have no legitimacy," Abdullah told reporters.
Afghanistan's foreign backers have long worried that complaints of fraud coupled with a close outcome could give the losing candidate ground to refuse to accept defeat, leading to a struggle for power.
Abdullah's remarks pushed the country closer to that worst-case scenario with many ballot boxes yet to even reach the capital for counting.
Abdullah's base of support is with the ethnic Tajik minority while his rival Ghani, is a Pashtun. Pashtuns are the biggest ethnic group with about 45 percent of the population.
"From now on, today, we announce that we have no confidence or trust in the election bodies," Abdullah said. "I call on all our observers to abandon monitoring and return to our provincial offices."
When asked if there was any way to salvage the election, Abdullah said the United Nations might be able to intervene and oversee the counting process.
A spokesman said the United Nations was surprised by Abdullah's announcement and regretted it.
"We will work with both campaigns and the (election) commission, consulting with them on the way forward and we believe due process should continue," the U.N. spokesman said.
CONTRADICTORY DATA
Ghani was not immediately available for comment but this week he urged all parties to respect the political process.
Incumbent President Karzai is constitutionally barred from running for a third term, but has long repeated he is neutral, denying claims made by Abdullah's camp that he interfered in Ghani's favour.
Abdullah began complaining about widespread ballot stuffing and political interference on the day of the vote. There are several sets of preliminary voting figures in circulation offering contradictory results.
In one group of raw data provided to Reuters by an employee of the Independent Election Commission, Ghani is about eight percentage points ahead with just over half a million votes more than his rival.
In a second set of data provided to Reuters by Abdullah's team, Abdullah is in the lead by about four percentage points.
This contradicted earlier claims made by Abdullah in a briefing with reporters on Monday that Ghani was in the lead by about a million votes. His spokesman later said the numbers provided were inaccurate.
The timing of the election is especially critical because most foreign troops are due to withdraw this year, leaving behind a still strong Taliban insurgency and a deepening economic crisis.
Over his final term in office, Karzai's relationship with the West has grown increasingly bitter, culminating in his refusal late last year to sign a deal with the United States allowing it to leave a small contingent of U.S. troops to stay beyond 2014.
Despite the billions spent on reconstruction, Afghanistan relies on aid for much of its income and some donors may refuse to disburse cash if there is no international force on the ground.
Karzai's administration has also failure to pass laws demanded by the international community meaning that its banks may be put on an international blacklist later this month, potentially disrupting $10 billion worth of annual imports.
Reuters