Obama deploys boots to Iraq, days after saying 'no boots'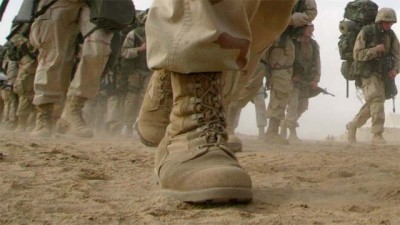 US President Barack Obama announced on Monday evening that US ground troops 'equipped for combat' are being sent to Iraq – just days after claiming that no American soldiers would be deployed to the war-torn country.
In a letter to Congress, the president said American troops will be returning to Iraq only three years after they left and their deployment began on Sunday.
Obama said that their only purpose will be to protect U.S. personnel and the embassy in Baghdad – and not to join in the fierce fighting raging outside the Iraqi capital.
The president did tell Congress, however, that American military personnel in Baghdad will be 'equipped for combat.'
The president did not give a deadline for the troops exit, only that the 275 soldiers will remain in Iraq for as long as they are needed to protect US interests.
About 160 troops are already in Iraq, including 50 Marines and more than 100 U.S. Army soldiers. Some of those soldiers have only recently arrived.
Under the authorization Obama outlined, a U.S. official says the U.S. will put an additional 100 soldiers in a nearby third country where they would be held in reserve until needed.
The White House says the U.S. military personnel are entering Iraq with its consent.
'The personnel will provide assistance to the Department of State,' White House Press Secretary Jay Carney said in a statement, 'in connection with the temporary relocation of some staff from the U.S. Embassy in Baghdad to the U.S. Consulates General in Basra and Erbil and to the Iraq Support Unit in Amman [Jordan].'
'The U.S. Embassy in Baghdad remains open,' Carney added, 'and a substantial majority of the U.S. Embassy presence in Iraq will remain in place and the embassy will be fully equipped to carry out its national security mission.'
The move comes as jihadists of the Islamic State of Iraq and Syria (ISIS) battle Iraqi security forces for control of a strategic northern town, and Washington weighs possible drone strikes against the militants.
The ISIS fighters have taken control of a swath of territory north of Baghdad in a drive towards the Iraqi capital launched a week ago.
A White House official also said Monday that the Obama administration is considering the deployment of a small contingent of Special Forces to Iraq, specifically to help Mouri al-Maliki's government slow the advance of the Sunni insurgents
Obama has explicitly said American ground troops won't surge into the nation once patrolled by more than 148,000 U.S. servicemen and women.
But sending Navy SEALs and Army Rangers into harm's way could help ISIS draw the U.S. into a series of firefights to which Obama would likely have to respond with greater force.
Officials said, however, that those 'special operators' would only be employed to help stabilize a collapsing security situation by assisting and training Iraq's regular and reserve army.
Speaking on condition of anonymity, a U.S official told the Associated Press that up to 100 special operators would fall under the authority of the State Department, and would not be authorized to engage in combat.
This important development comes as the Obama administration said it was willing to take the extraordinary step of talking to Iran about cooperating over the deteriorating security conditions in Iraq.
Secretary of State John Kerry said on Monday that he is not ruling out potential U.S.-Iranian military actions to stem the advance of Sunni extremists.
Kerry also said in an interview with Yahoo! News that U.S. drone strikes 'may well be' an option.
He said Washington is 'open to discussions' with Tehran if the Iranians can help end the violence and restore confidence in the Iraqi government. Asked about possible military cooperation with Iran, Kerry said he would 'not rule out anything that would be constructive.' However, he stressed that any contacts with Iran would move 'step-by-step.'
U.S. officials said earlier there is a possibility that Undersecretary of State William Burns may discuss Iraq with an Iranian delegation at nuclear talks in Vienna. But Senator John McCain said any alliance with Iran would be the 'height of folly'.
'We're open to discussions if there is something constructive that can be contributed by Iran, if Iran is prepared to do something that is going to respect the integrity and sovereignty of Iraq and ability of the government to reform,' Kerry said.
The Obama administration is also considering unilateral airstrikes to slow an al-Qaeda-inspired insurgency that is threatening the government of President Nouri al-Maliki.
Kerry said Monday those are still an option.
'They are not the whole answer, but they may well be one of the options that are important to be able to stem the tide and stop the movement of people who are moving around in open convoys and trucks and terrorizing people,' he said.
'When you have people murdering, assassinating in these mass massacres, you have to stop that and you do what you need to do if you need to try to stop it from the air or otherwise.'
Those categories now appear to include both air and sea options. In addition to the USS George H.W. Bush aircraft carrier, the U.S. Navy has moved the amphibious transport dock ship USS Mesa Verde into the Persian Gulf.
That vessel carries Osprey combat helicopters, according to NBC News.
The irony of open discussions between Washington and Tehran is thick. Just a year ago the U.S. was busily slapping sanctions on Iran's regime in response to fears that it was speeding toward the completion of a nuclear weapon.
The Obama White House has preferred a diplomatic approach to Iran, rather than a more aggressive foreign policy posture, while Republicans in Congress have consistently argued for a tougher line.
With Iran stepping in as Iraq disintegrates into religious sectarian civil war, America may find itself embracing Obama's position by default instead of talking about 'red lines' and new avenues of international sanctions.
In response to the moves, McCain said said in a statement: 'This is the same Iranian regime that has trained and armed the most dangerous Shia militant groups, that has consistently urged Prime Minister Maliki to pursue a narrow sectarian agenda at the expense of national reconciliation, that supplies the rockets that have been fired at the U.S. Embassy in Baghdad, that has sponsored acts of terrorism throughout the Middle East and the world, and that continues to use Iraq's territory and airspace to send weapons and fighters to prop up Bashar al-Assad in Syria…
'For all of these reasons, and more, the United States should be seeking to minimize greater Iranian involvement in Iraq right now, not encouraging it. That means rapid, decisive U.S. action to degrade ISIS and halt their offensive in Iraq.'
Iran has reportedly sent as many as 2,000 men from its Quds paramilitary force into Iraq to bolster defenses around Baghdad and try to turn back the ISIS advance.
CBS News reported that Qassem Suleimani, the leader of the Quds Force – a special forces unit of Iran's Revolutionary Guard – is in Baghdad with his fighters to help the Iraqi government coordinate its military response.
In the last week, Sunni militants took Iraq's second-largest city, Mosul, and Saddam Hussein's hometown of Tikrit in a lightening offensive that has plunged Iraq into its worst crisis since the 2011 withdrawal of U.S. troops. Over the weekend, militants posted graphic photos that appeared to show their gunmen massacring scores of captured Iraqi soldiers.
They also captured a key northern town along the highway to Syria early on Monday, compounding the woes of Iraq's Shia-led government a week after it lost a vast swath of territory to the insurgents in the country's north.
The town of Tal Afar, with a population of some 200,000 people, was taken just before dawn.
The town's ethnic mix of mostly ethnic Shia and Sunni Turkomen raises the grim spectre of large-scale atrocities by Sunni militants from the al-Qaeda-inspired Islamic State of Iraq and Syria, or ISIS, who already claim to have killed hundreds of Shias in areas they captured last week.
Tal Afar's capture came just hours after Shia Prime Minister Nouri al-Maliki, addressing volunteers joining the security forces, vowed to retake every inch of territory seized by the militants.
'We will march and liberate every inch they defaced, from the country's northernmost point to the southernmost point,' al-Maliki said. The volunteers responded with Shia chants.
Videos have appeared of Iraqi forces launching their counteroffensive, with helicopter gunships striking what were identified as militant targets.
With Baghdad threatened by the militants' advance, the State Department reinforced security at the U.S. Embassy and sent some personnel out of town.
Much of the embassy staff will stay in place, State Department spokeswoman Jen Psaki said in a statement released Sunday. The statement did not say the number of personnel affected. The embassy, along the Tigris River in Baghdad's Green Zone, has about 5,000 personnel and is the largest U.S. diplomatic post in the world.
Some embassy staff members were being temporarily moved elsewhere to more stable places at consulates in Basra, in the Shiite-dominated south of Iraq, and Irbil, in the Kurdish semi-autonomous region in northeastern Iraq, and to Jordan, she said.
U.S. travelers in the country were encouraged to exercise caution and limit travel to certain parts of Iraq.
Pentagon spokesman Rear Adm. John Kirby said in a statement that a 'small number' of military personnel are helping to keep State Department facilities in Baghdad safe. He said embassy staff are being moved by commercial, charter and State Department aircraft, adding that the U.S. military has "airlift assets at the ready" should the State Department request them.
A U.S. military official said about 100 Marines and Army soldiers have been sent to Baghdad to help with embassy security.
Defense Secretary Chuck Hagel has ordered the aircraft carrier USS George H.W. Bush and the amphibious transport dock ship USS Mesa Verde to the Persian Gulf as the president considers possible military options for Iraq. Kirby said the moves will give Obama additional flexibility if military action were required to protect American citizens and interests in Iraq.
Meanwhile, State Department spokeswoman Jen Psaki said Sunday that a militants' claim of killing Iraqi troops by the hundreds and posting photos of the aftermath 'is horrifying and a true depiction of the bloodlust that those terrorists represent.'
The Daily Mail