Hezbollah ally Taking charge of his border town's security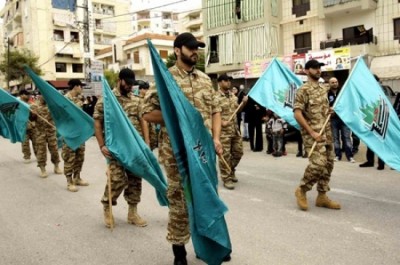 ONE night last summer, after his lucrative stone quarry was ransacked and nearly a dozen employees kidnapped by Syrian rebels, Rifaat Nasrallah, a Lebanese businessman, decided to take charge of his frontier town's security. Rockets from Syria had been raining down on the area as the civil war a few miles away crept closer by the day.
But Mr Nasrallah was most bothered by the nearby Sunni rebels in Syria, especially Jabhat al-Nusra, an al-Qaeda affiliate. "The whole world has watched while Christians are murdered, our churches destroyed and our nuns kidnapped," the 50-year-old Mr Nasrallah says. "We couldn't even hang our laundry overnight because Jabhat al-Nusra would steal our clothes," he says of the time when the nearby town of Qusayr was being attacked by the regime and rebels fled through the area.
So Mr Nasrallah quickly mobilised a heavily-armed, all-Christian border guard in the small, mostly Christian town of Ras Baalbek.Today his band of local gunmen are the front line of border defence for this stretch of Lebanon's northeastern Bekaa Valley, a largely un-demarcated area and longtime haven for smugglers and outlaws. Local militias like his, Mr Nasrallah reckons, helped to halt a wave of car bombings in Beirut last winter that he claims originated with those residing in towns in his area. He vows to flush the rebels out once and for all.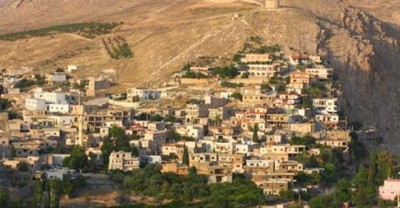 Mr Nasrallah has experience. He belongs to Saraya al-Muqawama, a cross-sectarian proxy force trained and armed by the Shia militant group Hizbullah over a decade ago to handle security flare-ups in Lebanon. But with sectarian tensions inflamed by Hizbullah's military involvement in Syria, where the group has helped turn the tide of war in the regime's favour, these men rebranded themselves a "self-defence committee". Most of Mr Nasrallah's men have served in the Lebanese army or Syrian pro-government paramilitary groups.
Above the fireplace in Mr Nasrallah's opulent villa, wedged between crucifixes and a statuette of the Virgin Mary sits a framed portrait of his unrelated namesake, Hizbullah chief Hassan Nasrallah. Around the home are several posters praising Hizbullah dead. "We receive calls from Hizbullah warning us that [Jabhat al-] Nusra are moving over there, or hiding over there," says 65-year-old militiaman Antony, who has the weathered look and build of a drill sergeant, his index finger tracing the distant ridgeline. "Then we mobilise and engage them."
The patrols consist of six or seven armed men in pickup trucks and scouts on off-road motorbikes. They range in age from late teens to retirees, and wear military fatigues, some bearing the insignia of the local municipality or a black patch that simply reads "police". They even boast a few Russian-made anti-tank missiles that are a staple of Hizbullah's vast arsenal.
The quiet rebranding of Saraya al-Muqawama outfits here seems meant to calm neighboring Sunni enclaves that remain sympathetic to the rebels. "[Hizbullah] is being clever," Mr Nasrallah says. "They don't want to enrage the Sunni towns such as Arsal even more."
Arsal, five miles south of Ras Baalbek, is home to over 40,000 Syrian refugees—as well as teeming with several thousand idle rebels of all stripes including Jabhat al-Nusra. Syrian regime forces and Hizbullah are busy consolidating recent battlefield gains in the surrounding hills, but their focus could soon be closer to home. "We have no desire to fight our fellow Lebanese," says Abu Omar, a weapons smuggler and town elder. "But Hizbullah and its agents are determined to provoke a final battle for Arsal, and we will fight to the end."
The Economist