Assad throws his support behind Aoun for Lebanon presidency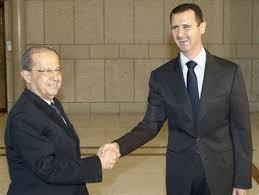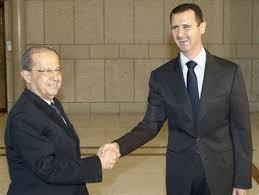 Syrian President Bashar Assad threw his support behind the candidacy of Free Patriotic Movement leader Michel Aoun describing him as an "honest man," and saying he would welcome his election as the next Lebanese president.
In an interview with al-Akhbar daily published on Wednesday, Assad stressed that his country does not interfere in the local affairs of any Arab state but nevertheless he added: "Aoun is an honorable and honest man who fought with dignity and reconciled with dignity and remained loyal to his stance towards us despite all the storms."
"We welcome Aoun's election as a president for being in Lebanon's interest and in the interest of friendly ties," he stressed
The FPM chief is "patriotic, non confessional and believes in the resistance," Assad added.
On the eve of the presidential elections in Syria , Aoun was quoted by Al Joumhouria newspaper as saying that Assad deserves a Nobel prize for combating terrorism.
He added that he supports Assad "because he opposes his alternative."
The Syrian regime usually refers to the mostly Sunni rebels who ware trying to topple the 40 year old Assad dictatorship as terrorists.
On Monday the Lebanese parliament failed for the sixth time in a row to hold a session to elect the country's new president to replace Michel Suleiman whose terms ended on May 25.
As in the previous sessions , the vote could not be held as lawmakers allied with the Iranian backed Hezbollah militant group boycotted the voting for lack of agreement on a consensus president.
There are serious concerns that a prolonged vacuum at the Baabda presidential place would affect Lebanon's power-sharing system under which the president should be a Christian Maronite, the speaker a Muslim Shiite and the PM a Muslim Sunni.
After Lebanese Forces leader Samir Geagea secured 48 votes last April 23, the Hezbollah led March 8 alliance including Aoun and Marada Movement leader Suleiman Franjieh walked out from the parliament to make sure there was no quorum to elect a president. They continued their boycott of the parliament during the 5 other sessions that followed .
Aoun has not announced his candidacy but he aspires to become a consensual nominee and has reportedly been waiting for former PM and Future Movement leader MP Saad Hariri to back him , but so far the Future Movement leader along with his March 14 allies is sticking with Geagea.
Geagea challenged Aoun to run against him or move on to plan B which calls for agreeing on a consensual candidate , Lebanese media reported last month.
One observer commented on Assad's backing for Aoun's candidacy by saying : "As far as I can see this is the kiss of death for Aoun's chances to ever reach the Baabda palace . Can you imagine what will happen to Hariri if he decides to back Aoun's candidacy? …forget about the Future Movement or any future for Hariri if he links up with Aoun."