IAEA chief says Iran should do more to address bomb concerns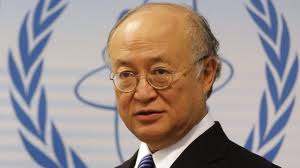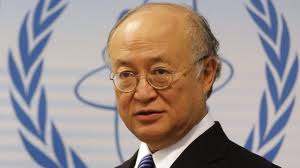 The U.N. nuclear watchdog chief praised Iran on Monday for showing increased openness about its disputed nuclear programme but made clear Tehran must do more to fully address questions about suspected atomic bomb research.
ukiya Amano's statement is likely to be seen as cautiously positive by the six world powers that are aiming to negotiate a final accord with the Islamic Republic by a July 20 deadline to settle a decade-old standoff over its atomic activities.
The relatively upbeat remarks suggested that the International Atomic Energy Agency is becoming more hopeful of finally making some headway in a long-stymied IAEA investigation into allegations that Iran may have worked on designing a nuclear warhead, something it denies doing.
The Islamic Republic says its uranium enrichment programme is a peaceful energy project but the West fears it may be aimed at developing a nuclear weapons capability. Western diplomats have long accused Iran of stonewalling the IAEA's investigation.
U.S. officials say it is vital for Iran to address IAEA concerns if Washington and the five other powers are to reach a long-term nuclear accord. But Iran's repeated denials of any nuclear bomb aspirations will make it hard for it to admit to any wrongdoing in the past without losing face.
Amano said Iran's engagement with the U.N. agency under a step-by-step cooperation and transparency pact reached in November – which includes greater access and more information – had helped the IAEA "gain a better understanding" of the programme.
"I welcome the fact that the practical measures agreed with Iran … have been implemented by Iran as planned," the IAEA's director general told a quarterly meeting of its 35-nation Board of Governors.
The IAEA-Iran talks are separate from those between Tehran and the powers – United States, France, Germany, Britain, China and Russia but complementary as both focus on suspicions that Iran may covertly be seeking the means and expertise to assemble nuclear weapons.
After years of increasing tension with the West – and fears of a new Middle East war breaking out, last June's election of pragmatist Hassan Rouhani paved the way for a dramatic thaw in relations. However, the sides remain far apart on what a long-term nuclear agreement should look like.
IAEA ASSESSMENT ON IRAN "IN DUE COURSE"
Last month, Iran gave the U.N. agency requested information about one of the issues that are part of the IAEA's inquiry – concerning detonators that can be used, among other things, to set off an atomic explosive device. It also agreed to address two other areas of the investigation by Aug. 25.
"Iran has engaged with the Agency substantively, including in the clarification of issues related to the use of exploding bridge wire detonators," Amano said.
He underlined, however, that it would take some time before the IAEA would be in a position to give an overall assessment of what it calls the possible military dimensions of Iran's nuclear programme.
"We are analysing the information provided by Iran," Amano said, and the IAEA would provide an assessment about the results of its investigation "in due course, after acquiring a good understanding of the whole picture".
He added: "This does not exclude the possibility of the agency making known its initial thoughts on specific issues in the meantime, as appropriate."
Western capitals, aware of past failures to get Iran to cooperate with the IAEA, are likely to remain sceptical until it has fully implemented the agreed steps and others to clear up allegations of illicit atomic work.
Amano also underlined the need for more Iranian cooperation with the IAEA's investigation. "In order to resolve all outstanding issues, past and present, it is very important that Iran continues to implement the Framework for Cooperation," he said, referring to last year's agreement with Tehran.
Reuters