Top Putin aide, 2 Crimea companies added to EU's sanctions list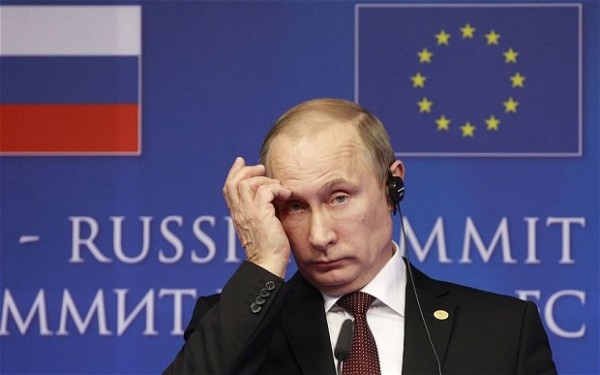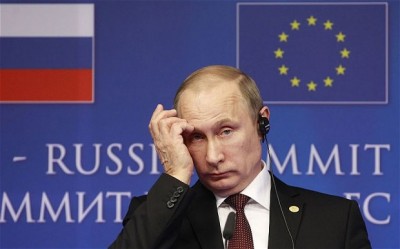 The European Union imposed sanctions on Monday on a top aide to Russian President Vladimir Putin and the commander of Russian paratroopers as well as two confiscated Crimean energy companies, raising pressure on Moscow over its actions in Ukraine.
Putin's first deputy chief of staff, Vyacheslav Volodin, and Vladimir Shamanov, the commander of Russian airborne troops that took part in Russia's occupation of Ukraine's Crimea region in March, were among 13 people added to the EU's sanctions list.
Volodin, a wealthy former lawyer and veteran political strategist, is already on the U.S. sanctions list.
The latest additions bring to 61 the number of Russians and Ukrainians the EU has targeted with asset freezes and visa bans.
For the first time, the EU's latest sanctions list included two companies after EU foreign ministers agreed on Monday to broaden the scope of sanctions, making it easier to freeze the assets of companies involved in the Ukraine crisis.
The companies are a Crimea-based gas company, Chernomorneftegaz, and a Crimean oil supply company, Feodosia.
The EU said both companies had been effectively confiscated by the new authorities in Crimea following the Russian takeover.
The United States had already imposed sanctions on Chernomorneftegaz on April 11, effectively putting it off limits to Russia's state-controlled energy giant Gazprom, which was expected to bid for a stake in the company.
U.S. officials said at the time that Washington's move aimed to make it impossible for Gazprom to have dealings with Chernomorneftegaz.
For now, EU sanctions are limited to firms or other organizations linked to Russia's annexation of Crimea, and the EU will not target high-profile firms such as Gazprom.
SEPARATISTS TARGETED
Also on the EU's new list of people facing asset freezes and visa bans were several pro-Russian separatist leaders in eastern Ukraine, including Vyacheslav Ponomaryov, the rebel mayor of Slaviansk who said earlier on Monday his eastern region needed Russian troops to provide stability.
Also included were Roman Lyagin, head of the electoral commission in Donetsk region, and Alexander Malykhin, head of a local election committee in Luhansk. Both were involved in organizing self-rule referendums in their areas on Sunday that the EU has called illegal.
Russia criticized the EU for expanding sanctions over the Ukraine crisis and urged it to respect self-rule votes in two eastern Ukrainian provinces.
"By continuing its faulty, anti-Russian sanctions logic, the European Union undermines trust in itself as a partner and casts doubt on its claim to an objective role in supporting a resolution of Ukraine's internal conflict," the Foreign Ministry said in a statement.
Even after the latest additions, the EU sanctions are less far-reaching than those imposed by the United States.
The EU's reticence to go further and impose tough economic sanctions on Russia over its support for separatist groups in Ukraine reflects concerns among many of its member states about trade and industrial ties and heavy reliance on Russian energy.
Underscoring such concerns, diplomatic sources said France planned to press ahead with a 1.2 billion euro ($1.66 billion) contract to sell Mistral helicopter carriers to Russia because scrapping it would do more damage to France than to Russia.
SANCTIONS TRIGGERS
EU foreign ministers meeting in Brussels on Monday did, however, discuss possible triggers for tougher sanctions, with big EU powers Germany, France and Britain all suggesting that Russia must be punished if it undermined Ukraine's presidential election on May 25.
A joint statement after the meeting said the EU would "pay particular attention to all parties' attitude and behavior towards the holding of free and fair presidential elections when deciding about possible future measures".
The ministers also held talks with Didier Burkhalter, head of the Organization for Security and Cooperation in Europe, who has drawn up a peace plan for Ukraine.
Several ministers denounced the independence referendums held in parts of eastern Ukraine on Sunday as illegal.
"These do not have credibility or international acceptance or recognition. I think the votes in the Eurovision song contest really were more credible," British Foreign Secretary William Hague told reporters.
Despite Hague's joke, the separatist region of Donetsk appealed to Moscow on Monday to consider its absorption into the Russian Federation.
The EU ministers said they backed "a swift convening" of another ministerial meeting between Ukraine, Russia, the United States and EU to ensure an April agreement aimed at defusing the Ukraine crisis was fully implemented.
Ministers also asked EU officials to draw up plans for a possible EU mission to advise Ukraine on rebuilding its police and legal system. Britain, Poland and Sweden have proposed sending hundreds of judicial and police advisers to Ukraine.
German Foreign Minister Frank-Walter Steinmeier said he would travel to Kiev on Tuesday and possibly to eastern and southern Ukraine to try to convince people there that building bridges between different sides was the only solution.
"We have to be prepared for what to do if someone prevents the elections on May 25. It that is going to happen … then we have to think about further sanctions," he said.
But Austria's Sebastian Kurz opposed tougher sanctions.
"We should not yearn for economic sanctions as they would not only hit Russia but also definitely hit us … If we went a step further with our sanctions with every provocation, we would already have war," he said.
Some EU governments fear that trade sanctions against Russia could undermine their own economies, just recovering from the financial crisis, and provoke Russian retaliation. Among those most reluctant to intensify sanctions are Italy, Greece, Cyprus, Bulgaria, Luxembourg and Spain.
Reuters