Berri wants Lebanon to quit UNIFIL meetings with Israel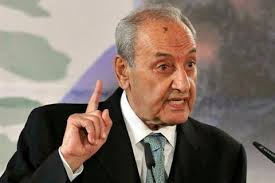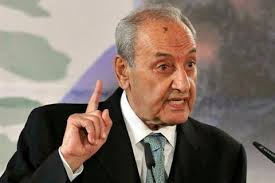 Lebanon's parliament speaker Nabih Berri warned on Monday that Israel's violations of Lebanese territory could push Beirut into abandoning the UNIFIL-brokered meetings between Lebanese and Israeli military officials.
Berri, who is closely associated with the Hezbollah militant group earlier in the day told As-Safir newspaper "Let all those who are rushing to get rid of the resistance see the newest violation of Lebanese territory."
He stressed that the tripartite meetings were "meaningless" and called on Foreign Minister Gebran Bassil to file an urgent complaint to the UN Security Council against Israel.
Israeli military boats violated Lebanon's maritime borders in the south of the country Monday morning, the Lebanese Armed Forces reported.
"Israel's persistent violations, breaches and escalation on the border, from the Wazzani to Naqoura, threaten the tripartite committee's work, the UNIFIL forces mission, and stability in the region," Berri told UN Special Coordinator for Lebanon Derek Plumbly during a meeting on Monday.
"This could push Lebanon to freeze its participation in the committee's meetings as they are incapable of preventing Israel from carrying out these hostile acts,".
Plumbly, on the other hand , issued a statement that "the Speaker and I agreed on the importance of the calm along the Blue Line and of safeguarding it and of course UNIFIL is exerting all efforts to achieve that."
However, the UN official refused to go into details on the latest Israeli violations during his press conference following the meeting.
"UNIFIL is looking into the matter," Plumbly told reporters.
"Between 10 a.m. and 11:45 a.m., military boats pertaining to the Israeli enemy violated Lebanon's regional waters at the Al-Naqoura point, and pushed one of the border buoys 20 meters into the [Lebanese] water," the LAF said in a statement.
This incident came a day after an Israeli patrol crossed the Lebanese border at the Ras al-Naqoura point and cut down trees and removed two blocks of concrete belonging to a nearby site for the Lebanese Armed Forces, the report said
President Michel Suleiman condemned the incident and requested Foreign Minister Gebran Bassil file a complaint with the UN Security Council "to protect Lebanese sovereignty from Israeli aggression and preserve security and stability in the South."
NOW