Trial: Abu Hamza al-Masri tells court how he lost both hands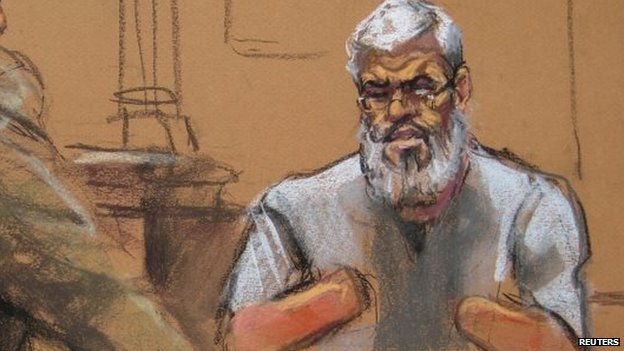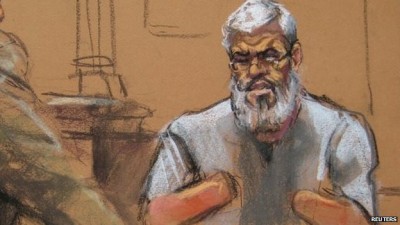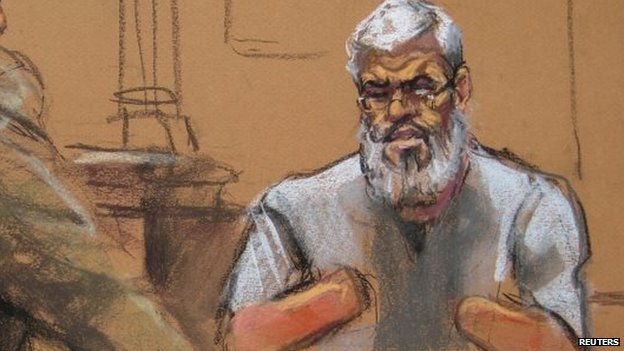 Radical Muslim cleric Abu Hamza al-Masri has told a court in New York how he lost both hands in an army experiment with explosives in Pakistan.
Abu Hamza, who is on trial charged with terror offences, said he was a civil engineer working on a project in Lahore when he suffered the injuries in August 1993.
He said "all sorts of stories" later spread about the cause of his injuries.
The Egyptian-born preacher denies 11 kidnapping and terrorism charges.
Giving evidence for a second day, Abu Hamza told the court how he had been working on the road project in Pakistan and had taken part in experiments with explosives with the Pakistani military in Lahore.
The radical preacher, who became known in the UK for preaching violent messages at the Finsbury Park mosque in London after 9/11, said explosives had been tested on empty land between two villas in the street.
He said he had been worried about "health and safety" on the experiment.
'Felt the explosion'
Abu Hamza told the jury how he was in the kitchen of the army house when a "commander" left a detonator and a container of explosive chemicals on the table.
When it started to get hot he picked it up and went to throw it into the bathroom but saw someone standing next to the sink.
"I just wanted to get rid of it," he told the jury, but said it then exploded in his hands.
He said he had "felt the explosion" and saw blood before falling into a coma.
The court heard he had been taken to a military hospital in Lahore, where he spent a month recovering.
He later flew to London for treatment, before returning to Pakistan to collect his children in 1994.
Abu Hamza, who has already spent eight years in a British prison, faces life imprisonment in the US if found guilty of aiding terrorism.
The trial continues.
BBC