Syria conflict : Huge blast destroys 'Aleppo hotel'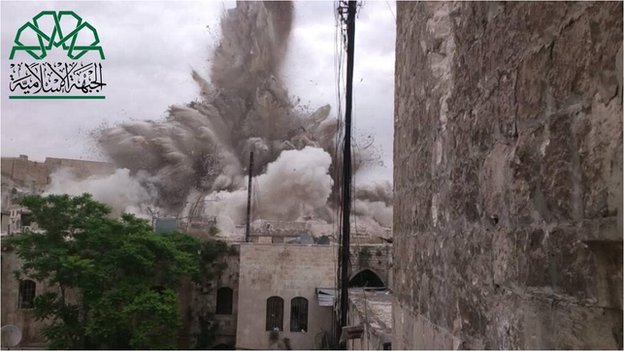 A large explosion in the northern Syrian city of Aleppo has destroyed a hotel and several other buildings, state media and activists report.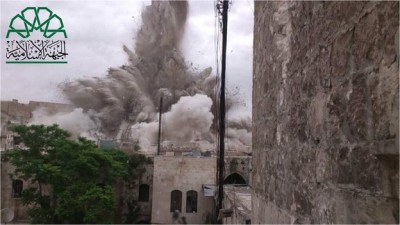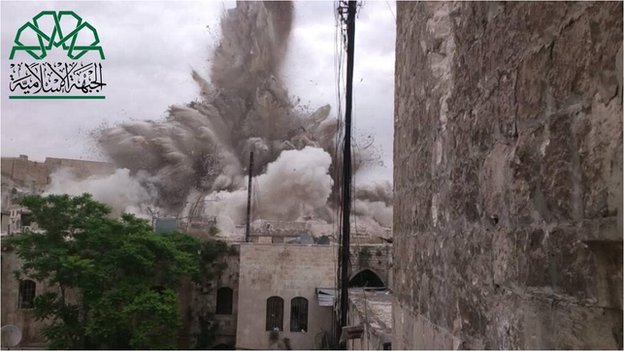 Rebel fighters are believed to have detonated a bomb placed in a tunnel beneath the Carlton Citadel Hotel, near the city's medieval citadel and souk.
Opposition activists said that government troops were based there and that a number had been killed.
Both sides have been trying to end a long-standing stalemate in the city.
In recent weeks, rebels have been trying to advance on areas where government forces are entrenched, while rebel-held areas of Aleppo have come under fierce aerial bombardment since mid-December.
'Archaeological sites'
The state news agency, Sana, reported that "terrorists" had blown up tunnels they had dug underneath archaeological sites in the Old City.
Preliminary reports said the hotel had suffered "huge damage", it added, without saying if there had been any casualties.
The Carlton Citadel is situated inside a 150-year-old building that faces the entrance of the 13th-Century citadel, which along with the rest of the Old City is a Unesco World Heritage Site.
The Syrian Observatory for Human Rights, a UK-based activist group, and the opposition Shaam News Network (SNN) said it was being used by government forces.
The remote detonation of a large quantity of explosives placed in the tunnel by the Islamic Front had destroyed the hotel and caused the collapse of several nearby buildings, the Observatory said.
A number of security forces personnel and militiamen loyal to President Bashar al-Assad were believed to have been killed, it added.
Photos posted on activist and rebel websites purported to show the moment of the blast, with a huge cloud of smoke rising from the scene.
Homs 'uninhabitable'
Meanwhile, hundreds more people are expected to be evacuated from their last remaining rebel stronghold in the heart of the city of Homs.
Almost 1,000 rebel fighters and their relatives were driven in buses from the Old City to opposition-held territory north of Homs on Wednesday.
The UN's Resident Co-ordinator in Syria, Yacoub El Hillo, told the BBC that the evacuation had paved the way for central Homs to be free from the fighting, and expressed hope that civilians would be able to return.
But he cautioned against them rushing back, warning that the formerly rebel-held areas were "inundated with unexploded ordnance", including land mines and booby traps.
The Old City was also "incredibly and comprehensively destroyed" and "uninhabitable", he added.
Homs Governor Talal al-Barazi told Syrian state television on Wednesday that Homs would be declared a "secure" city once the withdrawal was complete and the army had moved in.
The withdrawal is part of a deal that will also see rebels release dozens of captives and ease sieges of two predominantly Shia towns in the north.
BBC