Fast-food protests planned in 30 countries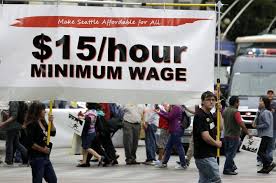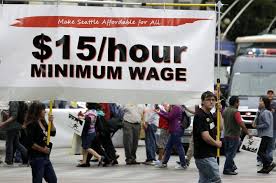 Labor organizers say they're planning another day of fast-food protests next week, with coordinated actions expected in more than 30 countries this time around.
Union representatives from countries including Argentina, Hong Kong, Italy, New Zealand and Panama gathered in New York this week to share tips and strategize for the demonstrations slated to take place on May 15. Organizers plan to announce the global actions at a press conference outside a McDonald's in New York on Wednesday afternoon.
The protests calling for pay of $15 an hour in the U.S. have gained national media attention since they began in New York in late 2012. The push is getting financial and organizational support from the Service Employees International Union — which has more than 2 million members — and has served as an important backdrop as President Obama and Democratic lawmakers seek to raise the federal minimum wage in an election year.
Although the effort to raise the federal minimum wage in Congress seems unlikely to succeed, several states and localities have raised their minimum wages over the past year or so.
The federal minimum wage of $7.25 an hour was last raised in 2009. That translates to about $15,000 a year, assuming an employee works 40 hours a week.
The protests also come at a time when the widening income gap has become a pressing issue. Since 1980, income has grown the most for top earners, while falling for the poorest 20 percent of families. Advocates for raising the minimum wage say a growing number of people in low-paying jobs are trying to support families.
Still, fast-food workers have historically been difficult to unionize because of the high turnover rates in the industry.
Meanwhile, turnouts for the fast-food protests over the past year have varied. In New York City, chanting demonstrators led by community leaders and local lawmakers typically flood a fast-food location for about a half hour, temporarily making it impossible for customers to enter the restaurant and place orders. Once the crowd disperses, however, restaurant operations quickly return back to normal.
In other cities, demonstrations are often much smaller.
Organizers say many of the protesters are workers who walked off their jobs at places including McDonald's, Burger King and Taco Bell. But such chains typically rely on a large number of part-time workers to avoid paying anyone overtime, meaning they can usually call up other workers to take over. The practice underscores another common grievance in the industry —employees say they never know exactly how many hours of work they'll be given from week to week.
Ron Oswald, general secretary of the International Union of Food, Agricultural, Hotel, Restaurant, Catering, Tobacco and Allied Workers' Associations, said at the two-day meeting in New York City that the idea of fast-food workers from around the world collaborating would've been unthinkable 10 years ago. But he noted that times have changed.
"Fast food workers have had enough," he said.
Organizers say protests are planned in countries including Japan, Pakistan and South Korea. But the scale of the actions will vary.
Louise Marie Rantzau, a 21-year-old McDonald's worker in Denmark, said she and her colleagues plan to take a photo of themselves holding a banner outside a fast-food restaurant, then post the picture on social media. She said a collective agreement with McDonald's prevents workers from protesting.
Her situation also underscores how fast-food employees work under varying conditions around the world; Rantzau said she earns about $21 an hour because of the collective agreement. Still, she noted that her colleagues often aren't aware of their rights, such as shift breaks and extra pay in certain conditions.
Yahoo/AP