War returns to Iraq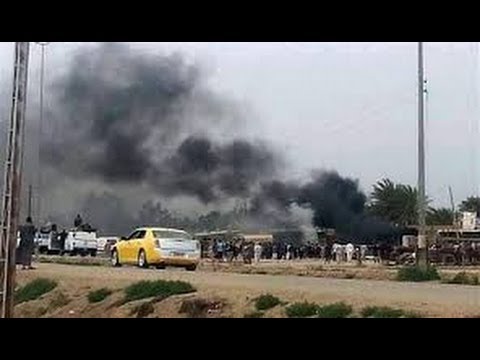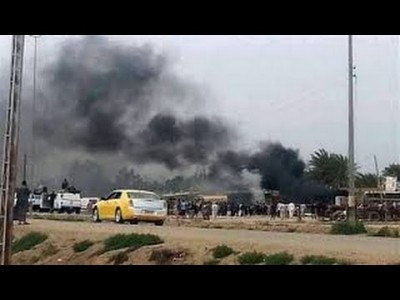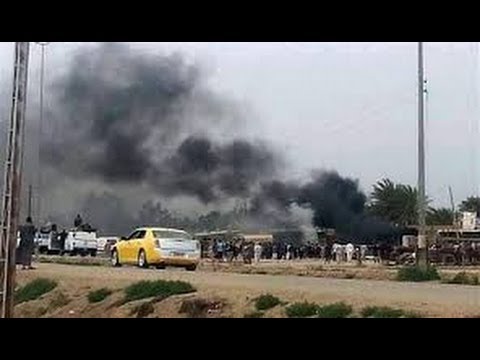 By David Ignatius
Iraq is slipping back into civil war, and Sheik Zaydan Aljabiri, one of the political leaders of the Sunni insurgent group known as the Tribal Revolutionaries, seems confident that his side is winning.
"We are three kilometers from Baghdad airport! We are 20 kilometers from the Green Zone!" Zaydan proclaims in an interview here. Dressed in a princely gold robe and red kaffiyeh, he conveys the tribal authority of one of the leading sheiks of Ramadi, the capital of Iraq's Anbar province.
With Iraqi parliamentary elections scheduled for Wednesday, war has come back with a vengeance to that shattered nation. But this time, there's no U.S. military around to broker a truce. The last U.S. troops left three years ago, and war-weary Americans would gag at the thought of returning to such a pitiless battlefield.
But make no mistake: Brutal sectarian war has come again to Iraq, and many say it's as bad as in the dark days of 2007. "In some ways, it's almost scarier today," says a Pentagon official who follows Iraq closely. The Iraqi military isn't strong enough to fend off the Sunni insurgents, so Prime Minister Nouri al-Maliki is relying increasingly on Iranian-trained Shiite militias.
As the Sunni fighters push toward Baghdad, they are turning to extremists for help, some of them linked with the al-Qaeda affiliate often known by its Arabic acronym, pronounced "Daash." Zaydan insists that his 15,000 fighters don't have extremist support, but other Iraqis say that the jihadists have been on the front lines, especially in Fallujah, at the gates of Baghdad.
"It's only going to get worse," warns Maj. Gen. Ali Shukri, a retired Jordanian commander who was the late King Hussein's special adviser on Iraqi tribes. He notes that many Sunni tribal leaders have never given up the atavistic dream that one expressed to him in 2005, after the United States had toppled Sunni dictator Saddam Hussein and transferred power to a Shiite-led government: "Iraq has always been ruled by Sunnis, and it will be again."
A vivid snapshot of the battle raging in Anbar province comes from Jalal al-Gaood, who's running for parliament in Wednesday's election. I spoke with him by phone Thursday while he was campaigning near Ramadi. He says that in town after town, extremists seize government buildings, triggering bombing reprisals and tank assaults by Iraqi government forces that drive residents away.
Gaood cites the example of a town called Albu Ali Jassim, west of Ramadi along the Euphrates River. "In the last week, violent extremists rampaged the police building and pushed people out," he explains. "The Iraqi military then began bombing and shelling the village, and the whole tribe moved out, 250 families." Because they're refugees now, these Sunnis from Albu Ali Jassim probably won't vote on Wednesday, which Gaood thinks is precisely what Maliki wants.
"Everyone tells me they've never seen what's happening on the ground now," says Gaood sorrowfully. "Hell has come to these villages and towns. It's far worse than before." On Thursday, says Gaood, Iraqi bombs destroyed the residence of Sheik Ali Hatem, the self-styled "emir" of the Tribal Revolutionaries. Gaood argues that Hatem's group should purge the extremists, but he notes they are "fierce fighters who are willing to take leadership against Maliki."
How did such catastrophic violence return to Iraq? That's really the saddest part of the story. The United States helped engineer Maliki's reelection as prime minister in 2010. But once the Americans had left, Maliki's government foolishly created a vacuum that allowed Sunni extremists to take root again in western Iraq after they had been crushed by the U.S.-backed tribal movement called the Sahwa, or "Awakening."
Zaydan's cousin, Sheik Sattar Abu Risha, was one of the Sahwa's founders. But when Maliki reneged on promises to keep paying the tribesmen, they turned elsewhere for support. Now, with Anbar in revolt, Maliki has tried to revive the Sahwa network, offering fighters as much $400 a month to back the government. But it's probably too late. "That ship has sailed," says the Pentagon expert.
Anbar is a battleground: Zaydan reports that when he drove recently from Ramadi to Amman, he saw scores of deserters from the Iraqi army. "We gave them Arab clothing, and they gave us their weapons," he says with a glint in his eye.
The Tribal Revolutionaries are ready to work with the United States to suppress al-Qaeda, Zaydan offers, but he warns: "Iraq is not now a state. It is led by gangs."
Washington Post