Rebels kill hundreds in South Sudan massacre, says UN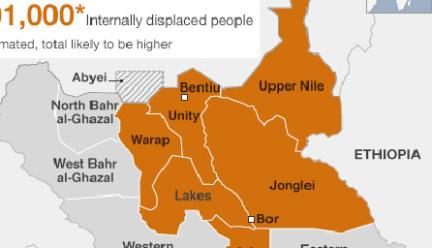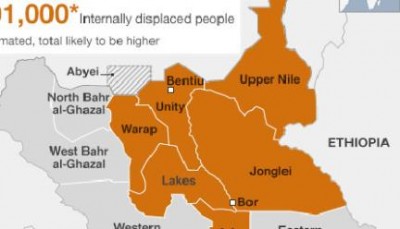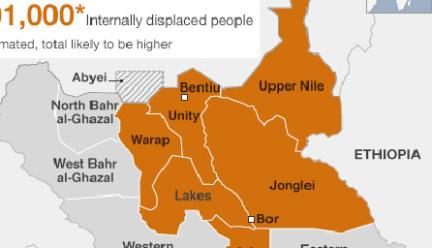 Rebels slaughtered hundreds of civilians when they seized the South Sudan oil hub of Bentiu, hunting down men, women and children who had sought refuge in a hospital, mosque and Catholic church, the United Nations said yesterday.
Rebel troops overran Bentiu, the capital of the oil producing Unity State, on Tuesday. More than one million people have fled their homes since fighting erupted in December between troops backing President Salva Kiir and soldiers loyal to his sacked vice-president, Riek Machar. The fighting has exacerbated ethnic tensions between Mr Kiir's Dinka people and Mr Machar's Nuer.
The UN peacekeeping mission in South Sudan said its human rights investigators confirmed that rebels "searched a number of places where hundreds of South Sudanese and foreign civilians had taken refuge and killed hundreds of the civilians after determining their ethnicity or nationality".
The UN mission strongly condemned the targeted killings on April 15th-16th and the use of Radio Bentiu FM to broadcast hate speech.
While some rebel commanders broadcast calls for unity, "others broadcast hate messages declaring that certain ethnic groups should not stay in Bentiu and even calling on men from one community to commit vengeful sexual violence against women from another community," the UN said. At Bentiu hospital, Nuer men, women and children were killed for hiding and not joining other Nuers in cheering the rebels as they entered the town. People from other South Sudanese communities and from Darfur in Sudan were also killed, the UN said.
Rebels also entered the Kali-Ballee mosque, a Catholic church and an empty World Food Programme compound where civilians had sought refuge and separated them by nationalities and ethnicities – escorting some to safety and killing others. "More than 200 civilians were reportedly killed and over 400 wounded at the mosque," the UN said.
Irish Times/Reuters