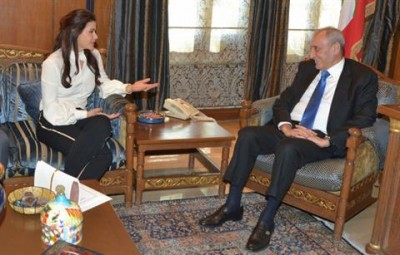 Lebanese Forces leader Samir Geaea who remains the only  declared presidential candidate   has  intensified  his presidential  poll campaign and has been sending delegations to both supporters and rivals
A Lebanese Forces delegation headed by MP Strida Geagea gave Speaker Nabih Berri a copy Geagea's platform during a meeting in Ain el-Tinehon Tuesday .
MP Geagea said the speaker praised her husband's agenda, saying the LF expected its leader to do well in Wednesday's session.
In response to a question about Berri's stance she said:
"Of course we hope Berri would vote for our nominee and he praised LF leader Geagea's candidacy in a telephone call with him."
"We expect Geagea to get no less than 50 votes for the first round of election… we have 37 votes from the Future bloc, eight votes from the Lebanese Forces along with several other independent lawmakers," the MP added
"As a March 14 coalition, we insist on having a single candidate. Our candidate, as March 14 forces, is Geagea and it is too early to talk about other options," she stressed.
The  Lebanese Forces delegation later met with MP Michel Murr , who told reporters  that he along with MP Nayla Tueni would attend Wednesday's morning session, adding that he expected quorum.
"I will check with my conscious and Lebanon's interest and then I will elect a president on that basis," Murr told reporters after another meeting in Ain el-Tineh with Speaker Berri
MP Geagea  thanked Telecoms Minister Butros Harb, once thought to be a presidential hopeful, for contacting Geagea and voicing support for his candidacy.
Several blocs have already confirmed their attendance of Wednesday's session
But MP Emile Rahme after meeting of  the Change and Reform bloc which is headed by MP Michel Aoun said:
"We will take part in tomorrow's session and we will cast blank votes."
In Tripoli supporters of former PM Omar Karami staged a demonstration in protest against Geagea's presidential bid.
Geagea launched his presidential election campaign last  Wednesday during a press conference at his Maarab residence, in which he called for a strong state and vowed to abide by the constitution and the country's laws and promised many economic and social reforms if he was elected president.
Photo: A Lebanese Forces delegation headed by MP Strida Geagea gave Speaker Nabih Berri a copy  LF leader Samir Geagea's program during a meeting in Ain el-Tineh on Tuesday .