4 French journalists are freed in Syria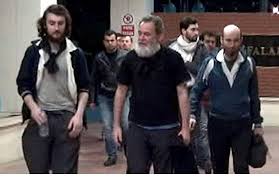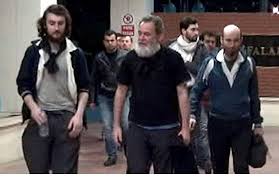 rench journalistsFour French journalists who were held captive for 10 months in Syria were released on the Turkish-Syrian border late Friday and were on their way home to France, President François Hollande said Saturday.
Mr. Hollande said the journalists were "in good health despite the grueling conditions of their captivity," and he thanked those "who permitted the happy ending of this ordeal."
A Turkish television channel broadcast a brief interview with the four after their arrival in Turkey. One of them, Didier François, a senior reporter for Europe 1 and a veteran war correspondent, smiled with apparent relief, although he looked tired as he said in English, "We thank the Turkish authorities because they helped us a great deal."
"We are very happy to be free," Mr. François added. "It's very nice to see the sky, to be able to walk, to speak freely."
All four had beards, but it was unclear whether they had them before or had grown them during their captivity. Islamic extremists generally do not allow hostages to shave. It was not clear who had seized them last June.
Two of the journalists, Mr. François and Edouard Elias, were working for Europe 1, a television channel. A third was a freelance writer, Nicolas Hénin, who had worked extensively for Le Point, a weekly magazine, as well as numerous other Francophone news outlets, and the fourth, Pierre Torres, was a freelance photographer, according to several French news outlets.
An article on the Europe 1 website reported that the four were found by Turkish soldiers in the no man's land between Turkey and Syria late Friday and that they were bound and blindfolded.
The New-York based Committee to Protect Journalists documented 61 kidnappings of journalists in Syria in 2013; some have escaped or have been released but many are in captivity.
The circumstances of the French journalists' release were not clear. The French in the past are believed to have paid ransoms to win the release of French hostages, although the French authorities deny that they do so.
NY Times