Is Putin's Next Move to Take Over Odessa?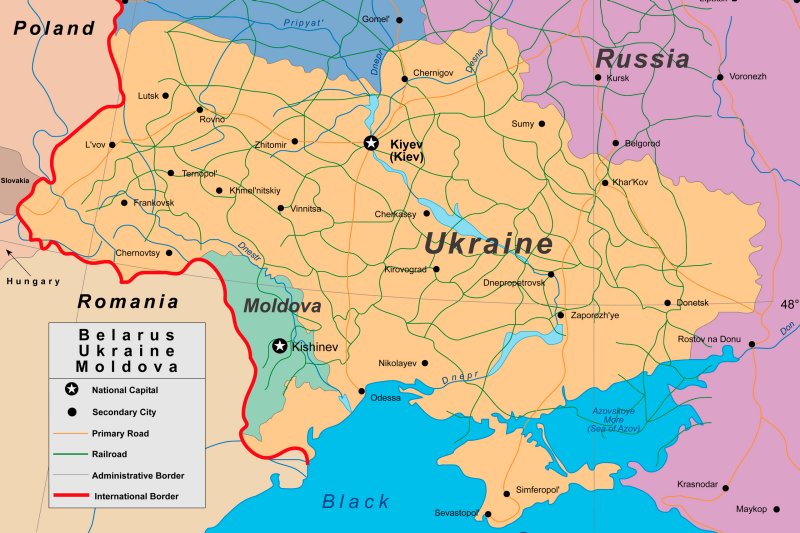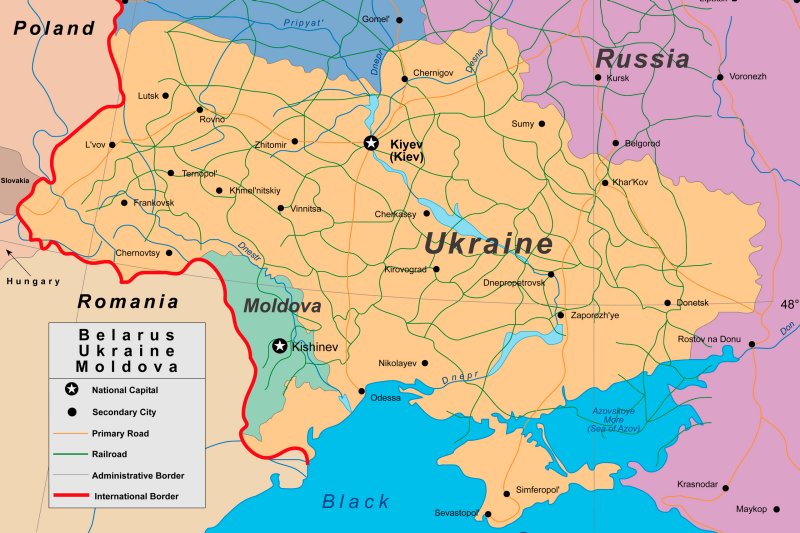 There are increasing signs that the unrest in eastern Ukraine is spreading, and Odessa, the country's third-largest city, could be the next to fall.
Crimea is in Moscow's hands. Deadly fighting has broken out in parts of Eastern Ukraine. And now there are signs that Russian President Vladimir Putin may have picked his next targets: First a small breakaway state in Moldova, west of Ukraine, where thousands of Moscow's troops are already stationed; then its close neighbor Odessa, Ukraine's third-largest city and its largest remaining port, where pro-Russian and pro-government groups are tangling. If forces loyal to Putin can successfully disrupt Odessa, it could effectively cut the county of Ukraine in two.
A firefight between pro-Russian forces and Ukrainian troops left three dead and 13 wounded in the Black Sea port of Mariupol late on Wednesday. Officials and experts inside Ukraine are also becoming more and more concerned that weeks of unrest, likely spurred on by the Russian government, are increasing in frequency and scale in Transnistria, the autonomous region on the Ukraine-Moldova border where as many as 2,500 Russian peacekeepers are stationed. Protests and counter-protests have also spread to Odessa—a city of over 1 million that's less than 50 miles from Transnistria. And that's stoking fears of a new front opening in the raging battle between the Ukrainian government in Kiev and pro-Russian forces operating all over eastern and now southern Ukraine. If Transnistria moves into Putin's camp, Odessa could well follow.
Rep. Mike Rogers, the Republican chairman of the House Permanent Select Committee on Intelligence, told The Daily Beast he has seen "a level of activity by the Russians" in Moldovan Transnistria that he said was similar to Russian military and paramilitary movements before Russia's annexation of Crimea. He said the Russian troop movements "fit the profile for the pre-deployment of additional special forces and intelligence units that engage in provocation and sabotage."
"The Moldovans are always nervous," he said. "But they are even more nervous these days."
Transnistria has long been an area of concern for Western intelligence agencies. The largely autonomous region is the location of one of the largest conventional weapons stockpiles in the world. For more than a decade, U.S. diplomats have observed signs that Putin has encouraged Transnistria to embrace more independence from Moldova.
There have been multiple reports that Russia has moved new plainclothes personnel into Transnistra in recent days, flown into the Moldovan capital of Chisinau directly from Moscow and then bussed over the Moldova-Transnistria boundary line. On Wednesday, some leaders in Transnistria called on Russia to formally recognize them and incorporate them into the Russian Federation.
The Russian government has publicly warning for weeks that it considered Transnistria a crucial part of its ongoing effort in Ukraine, because the lifelines to the Russian-speaking residents there—as well as the military supply routes—run through Ukrainian territory. Ongoing tensions between Moscow and Kiev could threaten those supply lines, leaving Russians there stranded.
Putin told President Obama in a March 29 phone call that Transnistria is "essentially experiencing a blockade, which significantly complicates the living conditions for the region's residents, impeding their movement and normal trade and economic activities," according to the Kremlin's read out of the conversation.
Speaking on Thursday morning, the Russian president issued a reminder that he had been granted the approval of Russia's upper chamber of parliament to intervene militarily if there was no peaceful resolution to the unrest in southern Ukraine. "Kharkiv, Lugansk, Donetsk, Odessa were not part of Ukraine in Czarist times, they were transferred in 1920. Why? God knows. Then for various reasons these areas were gone, and the people stayed there — we need to encourage them to find a solution," Putin said. "We must do everything to help these people to protect their rights and independently determine their own destiny."
Assistant Secretary of State Victoria Nuland has publicly denied that any blockade is ongoing in Transnistria, saying that the United States had done an investigation and sent observers to the border, reporting back that trade and commerce were functioning smoothly.
Both the Russian and Moldovan governments have said they want to resolve disputes over Transnistria through a multilateral process already in place. But increased agitation in Transnistria is leading many observers to worry that Russia is increasing its activity to destabilize nearby Odessa as well.
"We can't underestimate the strategic value of Odessa now that Crimea has been temporarily lost and we can't underestimate the Russian interest in interfering there ahead of the May 25th presidential election or to use the same tactics we saw used in Donetsk and in the Transnistria region," said Michael Druckman, head of the Kiev office of the International Republican Institute, an American non-governmental organization.
Odessa is not only Ukraine's most important remaining port for access to the Black Sea. It has also allegedly been a key avenue for Russian companies to export, sometimes with illicit or controversial purposes, goods overseas. Russian arms to the regime of Syrian President Bashar al Assad allegedly flowed through Odessa, for example.
"Evidence suggests that some of these companies may transport weapons to the Assad regime in Syria, among other notorious violators of human rights," read an expert analysis of the Odessa commercial network last year.
The loss of Crimea and the Russian takeover of other waterways in Eastern Ukraine "puts even more pressure on Odessa as Ukraine's last sea shipment lifeline, not just for the navy but for Ukrainian industry," said Druckman. "There should be concern from the perspective of Ukraine losing access to the Black Sea."
Gauging the exact level and nature of Russian interference inside Odessa is difficult. The Ukrainian domestic intelligence services claim to have arrested Russian intelligence officers there and pro-Russian militias in Odessa are organizing rallies daily.
"There's key Russian personnel in all of these cities," said Dmitry Gorenburg, senior research scientist at the Center for Naval Analyses, a nonprofit think tank. "Just about any city in the South and East is a possibility for Russian interference."
The Daily Beast