Syrian airstrike near Damascus kills three children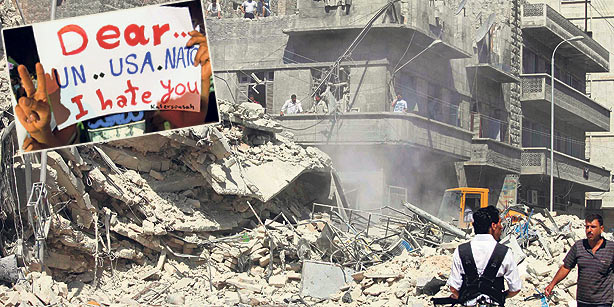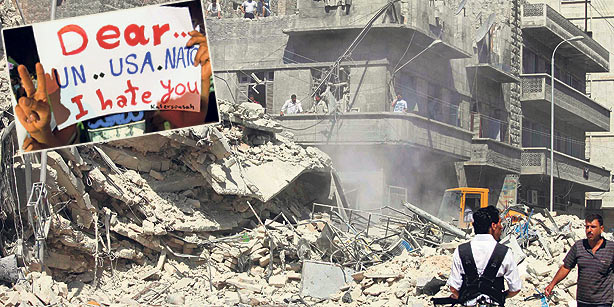 Syrian warplanes on Sunday launched an offensive against a string of opposition bastions on the edges of the capital, including the besieged Eastern Ghouta area, a monitoring group said.
"Warplanes carried out two air strikes against areas of Douma," northeast of Damascus, said the Syrian Observatory for Human Rights.
"Three children and four men were killed," it said.
One of the strikes on Douma, an opposition stronghold since early in the revolt against President Bashar Assad, hit a crowded marketplace, said the Syrian Revolution General Commission, a network of activists on the ground.
Douma and other towns and villages in Eastern Ghouta have been under army siege for a year.
The Observatory also reported air strikes against Hammuriyeh, east of Damascus, and highly destructive barrel bomb attacks on Daraya, an opposition bastion southwest of the capital.
The air raids came as fighting raged on the edges of Daraya between rebels and the army, which for more than a year has battled to secure the capital.
Other air strikes targeted Mleiha, also in Eastern Ghouta, while clashes on the town's edges pitted rebels and their jihadist al-Nusra Front allies against the army and its Lebanese ally Hizbullah, the Observatory said.
Mleiha has suffered heavy bombing for 10 consecutive days, as the army and Hizbullah attempt to break through rebel lines.
The Observatory said regime forces on Sunday took control of areas on Mleiha's edges.
North of the capital, the army overran a string of hills overlooking Rankus, a former opposition stronghold in the strategic Qalamun mountains that fell to the regime last Wednesday, state television reported.
State news agency SANA, meanwhile, reported "the death of a young man and the wounding of 22 others" in a mortar attack launched by "terrorists" in central Damascus.
State media uses the regime's term "terrorists" to refer to rebels fighting to topple Assad's regime.
Damascus comes under frequent mortar fire. Sunday's attack hit Beirut Street, located near the army command headquarters.
The Observatory said two people were killed in the attack.
In northern Syria's Aleppo, fighting raged around the intelligence headquarters, which rebels have been trying to seize from regime hands, said the Observatory.
It said helicopters pressed the regime's months-old aerial offensive on Aleppo's rebel districts, killing two children and a man on Sunday.
The latest deaths come a day after 11 people including three children were killed in helicopter attacks using barrel bombs packed with explosives on opposition areas of Aleppo, according to the Observatory.
More than 150,000 people have been killed in Syria's war and nearly half the population have been forced to flee their homes.
Naharnet