First Bush, now Clinton: Hillary escapes hurled shoe (Video)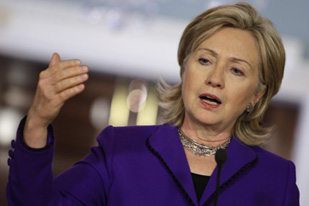 A woman hurled a shoe at Hillary Clinton on Thursday as the former secretary of state was delivering a speech at a Las Vegas hotel, but Clinton dodged it and continued with her remarks, a U.S. Secret Service spokesman said.
Footage of the incident showed Clinton, 66, crouching to dodge an object as she stood on stage.
Secret Service spokesman George Ogilvie said the protester was not a ticketed guest for Clinton's speech at the Mandalay Bay hotel and had been spotted by Secret Service agents and hotel security guards before the incident.
"As agents and hotel security approached her she threw a shoe and was immediately taken into custody by the Secret Service and hotel security," Ogilvie said.
The Las Vegas Review-Journal newspaper reported that the former first lady joked about the incident as she continued her speech to some 1,000 people attending a metal recycling conference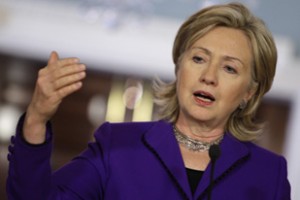 "Is that somebody throwing something at me?" Clinton asked, according to the Review-Journal. "Is that part of Cirque du Soleil?"
The newspaper quoted Clinton as saying, "My goodness, I didn't know that solid waste management was so controversial."
Mark Carpenter, a spokesman for the Institute of Scrap Recycling Industries, which hosted the speech, said that the woman was not affiliated with the event.
"Our staff denied her access before she later rushed past security. An ISRI staffer then stopped her as she approached the stage. She was then handed over to law enforcement," Carpenter said.
The throwing of shoes at political figures is a form of protest in many parts of the world. In 2008 a shoe was hurled at then-President George W. Bush when he appeared at a Baghdad press conference with the Iraqi prime minister.
Clinton, who lost the Democratic presidential nomination to then-Senator Barack Obama, said at a marketing conference in San Francisco earlier this week that she was thinking about running for president again in 2016.
She has been giving speeches across the country since leaving the State Department last year.
A hotel spokeswoman told Reuters she had no information on the episode, and a spokesman for Clinton did not immediately reply to a request for comment.
Reuters