Nasrallah: Hezbollah has selected Lebanon's next president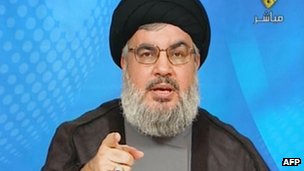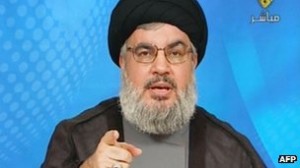 Hezbollah chief Hassan Nasrallah said that his party has decided on its favored candidate for the presidency, and voiced his rejection of extending President Michel Suleiman's term.
"Hezbollah has decided the name of the presidential candidate that it would support and vote for," Nasrallah said in remarks published Tuesday by As-Safir newspaper.
However, he said that his party would wait to announce the name of its favored candidate at the right time.
"Announcing the name [of our candidate] requires a convenient time and coordination among our political alliance," he added.
Nasrallah also said that his party was against extending Suleiman's term.
"Hezbollah's stance regarding the extension [of the president's term] is definitive and final… threatening the Lebanese people with the [possibility of a political] void should not scare them,"
"Bkirki [the Maronite patriarchate] was at the forefront of those calling for electing a new president."
Nasrallah also commented on Lebanese Forces leader Samir Geagea's candidacy for the presidential election.
"Regardless of our assessment of Geagea, his stances, biography, principles and political goals, and regardless of our assessment of any March 14 candidate, it is normal and logical for us to support our candidate…"
Nasrallah also said he held "some Christian politicians accountable for hindering the arrival of the most [popular] Christian to the presidency," in a possible reference to Change and Reform bloc leader MP Michel Aoun.
The Hezbollah leader slammed President Michel Suleiman, saying that he cannot manage a national dialogue.
"The stances of President Michel Suleiman in the last months have lost him the position of one who can run a national dialogue to discuss an issue as important as the defense strategy," Nasrallah said.
The Hezbollah leader also commended the government's security plan in Tripoli and the northern Beqaa.
"There should be an approach [on the] political, economic, social and developmental [levels], in addition to holding reconciliations among political parties," he noted.
Now Lebanon