Famed Dutch Jesuit priest abducted, beaten, executed in Syria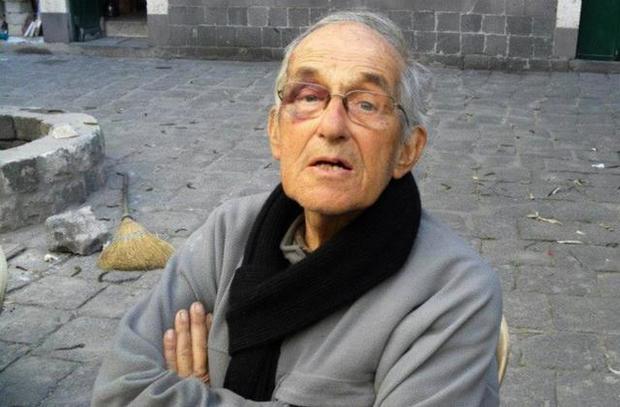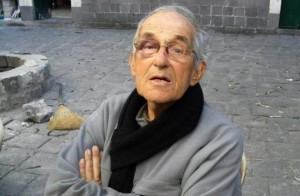 BEIRUT, Lebanon- An activist Jesuit priest who spent three years living alongside besieged civilians and rebels in the Syrian city of Homs was assassinated Monday, according to the Vatican, which said he was abducted by unidentified gunmen who beat him before executing him in front of his monastery.
Father Francis Van Der Lugt, 75, a Dutch Jesuit priest, came to Syria in 1966 and eventually founded a home for children and adults with mental disabilities outside Homs, where he lived before the three-year-old civil war started. After fighting began, he relocated to the rebel-held neighborhood of Bustan al Diwan in Homs Old City, where he worked with refugees and civilians during the more than two-year-old siege by regime forces.
"I can confirm that he's been killed," Jan Stuyt, secretary of the Dutch Jesuit Order, told the news agency Agence France-Presse by phone.
"A man came into his house, took him outside and shot him twice in the head. In the street in front of his house," he said, adding the priest would be buried in Syria "according to his wishes."
His bodyguard, who'd been supplied by the mainstream rebel Free Syrian Army, was wounded in the attack. Because of Van Der Lugt's high-profile role in condemning the Syrian regime for its blockade of Homs, some activists accused the regime of assassinating him. Islamic radicals with the Islamic State of Iraq and Syria _ a rogue al Qaida group _ have been repeatedly accused of targeting clergy and churches and are also considered suspects, according to rebel officials.
In a statement, a spokesman for the Jesuit order spoke of Van Der Lugt's dedication to sharing the suffering of the ordinary citizens he'd lived alongside for more than 40 years.
He "died as a man of peace, who with great courage in an extremely dangerous and difficult situation wanted to remain faithful to the Syrian people to whom he had dedicated so many years of his life and spiritual service," the Rev. Federico Lombardi said. "Where people die, their faithful shepherds also die with them. In this time of great sorrow, we express our participation in prayer, but also great pride and gratitude for having had a brother so close to the most suffering in the testimony of the love of Jesus to the end."
Van Der Lugt refused to leave central Homs earlier in the year as a U.N.-brokered cease-fire allowed some 1,400 starving residents to leave the area, citing his concern for those who remained behind for fear of arrest by the regime of President Bashar Assad.
"The Syrian people have given me so much, so much kindness, inspiration and everything they have. If the Syrian people are suffering now, I want to share their pain and their difficulties," he told Agence France-Presse in an interview just before the U.N. evacuation.
"The faces of people you see in the street are weak and yellow. Their bodies are weakened and have lost their strength," he asked. "What should we do, die of hunger?"
Syria has some of the oldest churches and monasteries in Christianity, with dozens that date back more than 1,500 years. Occasionally, Christians and their churches have been caught in the middle of an increasingly sectarian civil war that's pitted Sunni Muslims against Syria's other minorities, including the dominate Alawite sect, which receives substantial political and economic support from Christian communities.
In another high-profile incident, fighters for the al Qaida-linked Nusra Front took custody of a dozen Greek Orthodox nuns late last year after their monastery in the ancient city of Maaloula fell into rebel hands. Although the nuns reported being well treated after their release earlier this year, they were exchanged for regime-held prisoners.
The Islamic State of Iraq and Syria is strongly suspected of orchestrating last year's kidnapping of an Italian priest, Father Paolo Dall'Oglio, who'd lived in Syria for decades before being expelled by the regime for his rebel sympathies. He returned to Syria through rebel-held Aleppo and disappeared while attempting to negotiate a truce between warring rebel factions. His fate remains unknown, according to Italian authorities working on the case.
McClatchy
Photo: Dutch Father Francis Van Der Lugt, 75, shown in Homs, Syria