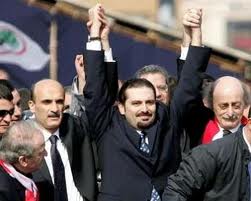 A meeting held between head of al-Mustaqbal movement leader Saad Hariri's adviser and Lebanese Forces leader Samir Geagea following his candidacy to the presidential elections was to confirm the "strong ties" between the allies.
According to al-Joumhouria newspaper published on Monday, the two officials stressed that the March 14 alliance will run for presidency "with one candidate only."
Nader al-Hariri and Geagea's meeting "came at a time to stress the strong ties between the factions of the independent move and the consultations between them."
Sources close to the LF expressed relief over the meeting.
Geagea was the first to announce his candidacy to the presidential elections last week.
President Michel Suleiman's six-year term ends in May but the Constitution states that the parliament should choose a new head of state within a two-month period before the end of the incumbent's term, which was on March 25.
"Geagea's contacts with the March 14 allies are open in order to reach common grounds concerning the presidential polls," the sources added.
Deputy LF leader MP George Adwan said that "the party's allies had previous knowledge about Geagea's candidacy."
"The battle is between two programs in the country."
Contacts are ongoing between the March 14 Christian parties to prepare a unified stance before tackling the matter with the rest of their allies, An Nahar newspaper said.
Lebanese media have in recent weeks identified other presidential hopefuls as Kataeb party leader and ex-president Amin Gemayel, MPs Boutros Harb and Robert Ghanem, who are like Geagea members of the March 14 anti-Syria movement.
Other potential candidates are Hizbullah allies Free Patriotic Movement leader MP Michel Aoun and Marada Movement leader MP Suleiman Franjieh.
Lebanese presidents are always chosen from the Christian Maronite community.
Naharnet