U.S. frustrated with total lack of effort from Israelis and Palestinians
By Bryan Bender Secretary of State John Kerry expressed frustration with the sputtering Mideast peace talks, taking an unusually pessimistic tone.
By Bryan Bender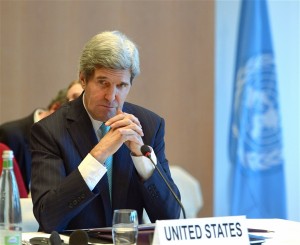 Secretary of State John Kerry expressed frustration on Friday with the sputtering Mideast peace talks, taking an unusually pessimistic tone as he indicated the Obama administration may pull back from the aggressive dealmaking effort that has dominated much of his tenure.
"There are limits to the amount of time and effort that the US can spend if the parties themselves are unable to take constructive steps," Kerry told reporters in Morocco, adding that it was time for a "reality check."
Kerry has spent nine months engaged in personal diplomacy, laying his own legacy on the line in the face of enormous odds and even public ridicule, only to thus far come up empty. While he seemed to be threatening to throw in the towel, Kerry also suggested the United States would continue looking for ways to keep some avenues open toward an Israeli-Palestinian solution.
"We are going to evaluate very carefully exactly where this is and where it might possibly be able to go," Kerry said. He added that he would consult on future strategy with President Obama, who has given the secretary of state considerable leeway to try to reach a lasting pact.
The decision to re-evaluate the US negotiating role was viewed as evidence that no matter how much Kerry may want it, the longtime enemies do not appear politically willing or able to find the common ground necessary to achieve a lasting peace agreement.
"Ultimately, the United States can and should play a useful bridging role," said Eric Edelman, a former undersecretary of defense who began his government career as a Mideast peace negotiator. "But we can't want peace more than they do. You have to put yourself forward when you think there is a reasonable chance and both sides want to be constructive. There hasn't been much indication… that they are prepared to do that."
Even as he has confronted a laundry list of global problems, Kerry has made Mideast peace a top priority. He has taken nearly a dozen trips to the region since he became secretary of state a little more than a year ago. He had even set up a temporary camp in a Jerusalem hotel suite, staffed by several hand-picked negotiators.
Shuttling between both sides, Kerry was able to restart peace negotiations and maintain some momentum for the first time in five years. The effort set high expectations: reaching a final settlement of the Arab-Israeli conflict and the establishment of an independent Palestinian state within a year.
In one sense, Kerry's threat Friday of an American pullback from the talks is an effort to jolt the Israelis and Palestinians into trying harder to bridge their differences — a highly public warning that this is their last chance to make progress under the current negotiating framework.
"The process has hit a point where some decisions that have to be made can only be made by the parties," said a State Department official who commented on the condition of anonymity.
"It's a moment where they've really got to hear from him that he's willing to walk away if they can't make those choices.''
Failure would not only be a blow for Kerry, but also for Obama, who, like most second-term presidents, is looking to chalk up a diplomatic win for his foreign-policy legacy. Right now, Obama's foreign agenda is dominated by crises and frustration, from Ukraine to Syria to Iran.
In recent days the peace effort has teetered on collapse. Israel, which considers dealing with Iran and the civil war in Syria much more pressing than coming to an accommodation with the Palestinians, backed away from a pledge to release Palestinian prisoners.
Meanwhile, the Palestinian Authority laid out a series of demands of the Israelis to continue the talks that were seen as eroding any trust — including calling for a written message from Israeli Prime Minister Benjamin Netanyahu recognizing the borders of the Palestinian state with its capital in East Jerusalem.
Palestinian leaders also sought membership in United Nations organizations, which was considered tantamount to a unilateral attempt to seek independence in the West Bank and Gaza Strip, the territories Israel has occupied since 1967 and were the focus of the negotiations.
The depths of the impasse became clear earlier this week when US officials floated the idea that President Obama might release convicted Israeli spy Jonathan Pollard as a way of persuading Israel to make more concessions. Kerry also canceled a meeting with Palestinian Authority President Mahmoud Abbas.
The gloomy outlook contrasted with Kerry's persistently optimistic note of recent months. He labeled "asinine" his critics in the foreign policy establishment — most of them in the pro-Israel camp — who suggested he was wasting his time. He said in late February that those who thought the effort was futile were simply uninformed.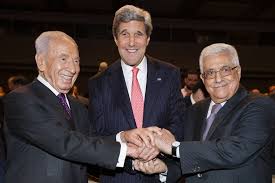 "I laugh at people who say it is not going anywhere," he told reporters at the State Department at the time. "They don't know because we're not talking about where it's at. They have no clue where our negotiations are, whether they can go anywhere. The fact is it was our leadership that helped pull that discussion back together."
But Kerry hinted at his increasing exasperation on Thursday in remarks to the US Embassy staff in Algiers, Algeria.
"I am really sorry that we got delayed," Kerry said. "I had a phone call, and it was one of those calls where you can't get the other person to realize the call's over."
A Kerry aide confirmed Friday that call had been with Netanyahu.
Some Middle East experts said the latest developments suggested Kerry may have been overly confident he could achieve a goal that has eluded past administrations for decades.
"The administration had an enormous amount of spin going on this, about how much progress was being made," said David Schenker, director of the Arab Politics Program at the Washington Institute for Near East Policy. "We were being told for months that tremendous progress was being made behind closed doors and they never talked to each other this way. Obviously that wasn't the case."
"Every administration would like to believe that by sheer force of personality they can make this happen," Schenker added. "But it has to be right."
Other observers praised Kerry's rare personal commitment and determination, but said seeking smaller goals may have been the wiser course. Gilead Sher, an Israeli Army colonel and lawyer who served as Israel's lead peace negotiator a decade ago, said that Kerry made a mistake by constructing the talks around the goal of reaching a final deal.
The goal could have been to give Palestinians more responsibilities in certain areas; or steps that Palestinians could take to reduce the public incitement to violence still prevalent in their schools; or the cessation of Israeli settlement construction in Arab neighborhoods of East Jerusalem.
"What you can do is create, little by little, a different reality that is apparent on the ground and people will see a change," said Sher, who is now head of the Center for Applied Negotiations at the Institute of National Security Studies in Tel Aviv. "Instead, you have a secluded negotiation process out of sight of the respective constituencies."
Sher said he was incredulous that in nine months Netanyahu and Abbas did not meet face to face a single time.
"They are a 12-minute drive apart from one another," he said. "This is one of the big mismanagements of the process."
Boston Globe