Murr to reunite with Aoun, agree on presidential nominee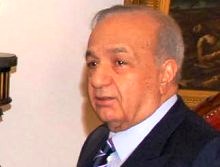 MP Michel Murr is expected to meet with his former ally Free Patriotic Movement chief MP Michel Aoun "soon" after differences drew them apart five years ago, al-Akhbar newspaper reported on Friday.
Murr will visit Aoun in Rabieh "very soon" to revive their alliance in the Metn district and agree on the presidential elections, the daily said.
Aoun, who is a Maronite, hasn't yet officially announced his candidacy for the presidency.
President Michel Suleiman's six-year term ends on May 25.
The post of the head of state is reserved to Maronites under the 1943 power-sharing agreement.
The constitutional deadline for the election of a new head of state started on March 25 but Speaker Nabih Berri is yet to call for a session.
Al-Akhbar quoted Murr, an Orthodox, as telling a three-member parliamentary committee from Berri's bloc that he would vote for Aoun if he was a serious candidate.
Berri formed the committee to press political parties and the heads of parliamentary blocs to guarantee a quorum during the election session.
Naharnet